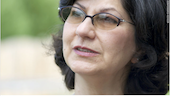 (Posted by: Moni Basu – CNN Wire editor) Minoo Vosough can still hear the guards' boots marching down the cold hallways of Iran's Gohardasht prison. The screams of other inmates burn her ears.
She can feel the thud of a fist coming down on her head. And the

world going black as she was blindfolded and shoved in a courtroom to hear her fate.
She was arrested in Tehran more than 25 years ago – beaten, interrogated and thrown into solitary confinement. Once a week, she was taken out for a shower. She could tell if it was bright or overcast only by the small window high up in her cell. She cherished the chirping of birds outside.
All she had was a blanket, a spoon and a broken fork.
The Iranian regime accused Vosough of espionage, though she was never charged or afforded legal representation. Her crime in the Islamic republic, she says, was – and still is – her faith.
She is a Baha'i.
She has not spoken publicly about her terrifying experience in an Iranian jail. Until now.
This month, the spotlight again fell on Iran's 300,000-strong Baha'i community as seven national leaders were sentenced to 20 years each in prison for espionage, propaganda against the Islamic republic and the establishment of an illegal administration.
The Baha'i International Community says the charges are trumped up in an effort to stifle the religion, the largest minority faith in Iran. The sentences were condemned by human rights groups and by U.S. Secretary of State Hillary Clinton, who sternly reminded Iran that "freedom of religion is the birthright of people of all faiths and beliefs in all places."
Iran denies mistreatment of Baha'is and says followers of the faith are free to live in Iran. But it says it considers activities against the Islamic state illegal and thus views the seven Baha'is accused of spying for Israel as criminals.
Vosough, a petite, soft-spoken realtor in Atlanta, Georgia, has been following the story of the Yaran, as the seven Baha'i leaders are known. One, Saeid Rezaie, is a classmate from her days at Pahlavi University, now called Shiraz University.
Vosough has tried to keep her own heartbreaking memories locked in the crevices of her mind. But seeing Rezaie's gentle face, reading about the plight of the Yaran, everything came rushing back.
"I want the whole world to know what is happening in Iran," she said.
"What was my crime? What is their crime? We simply believe in our faith. Why don't we have that right?"
Stamped an infidel
Vosough was born in 1956 into an Iran ruled by the shah. Her religion was then just over a century old, founded by two prophets: the Bab (the gate) and Baha'ullah (the glory of God).
Baha'is consider Baha'ullah the most recent in a line of God's messengers that includes Abraham, Moses, Buddha, Krishna, Zoroaster, Christ and Mohammed.
She learned from her parents and from her days at a Baha'i school about the key principle of her religion: oneness of humankind.
Baha'is had never been accepted in Iran but their station in life plunged with the arrival of the Islamic revolution in 1979.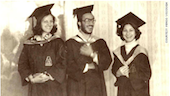 A young college student then, Vosough was forced to rent a graduation cap and gown to celebrate with her Baha'i friends after she was denied an official diploma and consequently, she was unable to land a job. These days, Baha'is are barred from enrolling in universities. Or even having a gravestone.
Vosough's father-in-law was buried with just a paper marker bearing his name and the number of the cemetery plot, she says, staring at an old color photograph of the grave. Four gladioli lie before the crude marker.
Otherwise it's hard to tell that a father lies there.
The Tehran government seemed to be looking away for a while, but repression for all religious minorities in Iran has worsened since the presidential elections of 2005 and in particular after the disputed polling last year, according to a 2010 report compiled by the bipartisan U.S. Commission on International Religious Freedom.
"A consistent stream of virulent and inflammatory statements by political and religious leaders and an increase in harassment and imprisonment of, and physical attacks against, these groups has led to a renewal of the kind of oppression seen in the years immediately following the Iranian revolution," the report says.
Baha'i blood is "mobah," which means members of the Baha'i faith can be killed with impunity, the report says. Iranian authorities view Baha'is as "heretics" who may face repression on the grounds of apostasy.
Since 1979, the Iranian government has executed more than 200 Baha'is and more than 10,000 have been dismissed from government and university jobs, the commission's report says. Baha'is may not establish places of worship, schools, or any independent religious associations in Iran. In addition, Baha'is are barred from the military and denied government jobs.
"This is a community that has really felt the jackboot of the Iranian government," says Leonard Leo, chairman of the commission.
Vosough says the Iranian government is determined to sow prejudice against the Baha'is. Even Muslims who associate with Baha'is are often harassed by authorities, she says.
On public forms, people are asked to mark their religion: Muslim. Christian. Zoroastrian. Jewish.
There is no box for the Baha'is.
"So you are stamped an infidel," says Vosough. "You have no rights."
Making a 13-day escape
She had been married two months in 1984 when she was arrested after a family gathering. The government suspected her of "illegal activity."
Officials stopped her car and demanded documents she didn't have. There were no Miranda Rights. No lawyer. She was wrestled away to Tehran's notorious Evin prison, her family left to scour the route she took.
She was only 27 – and frightened.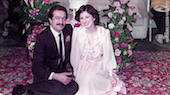 "I didn't know what was happening," she says. "In my heart, I knew I was there because I was a Baha'i."
In jail, she reflected on her faith. That gave her strength. She recited prayers and tried to count days. That kept her lucid.
She was taken to Gohardasht prison on the outskirts of Tehran and kept in a cell by herself. Later, when she was returned to Evin for her trial, she was placed in a room with 60 other women. A Baha'i woman was nursing her six-month-old baby. Vosough gave the woman her share of prison milk. The mother needed strength.
"Why should a baby be in prison?" she asks. "For what crime? Was that baby also a spy for Israel?"
After three months, Vosough was released. But she could not escape prison. She could no longer walk the streets without fear. And when she became pregnant, a panic set in.
"I wasn't going to let my child ever be in a prison like that," she says.
Or t be unable to go to school, get a job. Or do anything freely.
On a summer day in 1985, Vosough said goodbye to Iran. She took with her only a small bag with two changes of clothing for an escape that took 13 days. She and her husband traveled by the darkness of night, on horseback, on foot, over the mountains into neighboring Turkey.
The next year, with the help of the United Nations refugee agency, Vosough began a new life in the United States. She has no Iranian passport, required of all returning Iranians. Nor does she own any documentation of the life she left behind.
In her native Iran, she is more of a nobody than before.
At 53, Vosough does not know if she will ever again touch Iranian soil. Perhaps, she fears, she has already embraced her 86-year-old mother for the last time.
But in America, she says, she can practice her faith freely.
"You don't know freedom until it has been taken away from you," she says, sitting under a framed drawing of Baha'ullah¹s son Abdu¹l-Baha in her suburban home.
"It was taken away from me."
Ensuring survival
If Vosough could talk to Iranian President Mahmoud Ahmadinejad, she would tell him one thing: "This is not what Islam promotes."
The seven Baha'i leaders imprisoned now were the pillars of their communities, Vosough says. They are even more important because the Baha'is do not follow clergy. Instead communities plan their own meetings and services.
In Iran, the seven were working to ensure the survival of their way of life in a country that does not recognize them.
"I think I survived everything pretty good," she says, a moment of acute sadness interrupting the smile that is often splashed across her face.
But she worries that her 300,000 Baha'i brothers and sisters in Iran may not.
She has felt emboldened to write to her congressmen, to push them to apply pressure on Iran.
If the world forgets, she fears, what will become of her people?
Source: CNN: http://religion.blogs.cnn.com/2010/08/31/bahai-woman-recalls-imprisonment-in-iran/