Human Rights Activists in Iran reporters (HRA) — Noora Nabil-Zadeh, a Baha'i of Mashhad, a city in the Khorasan province of Iran, was released yesterday [Saturday Sept 18th] on bail of 50 million Tomans [approx. $50,000] from Mashhad's prison.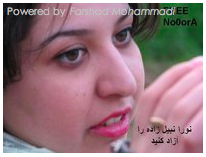 According to HRA reporters, on the afternoon of the first of Tir [July 22nd], Noora Nabil-Zadeh was arrested by agents of the Ministry of Information on charges of teaching the Baha'i Faith, while she and a few of her friends were actually working as volunteers with children at an orphanage, teaching them music and doing other activities.
The agents then took her back to her house; while searching the house, they confiscated all of her family's books related to the Baha'i Faith, desktop and laptop computers, and cellular phones.
—
Translation by Iran Press Watch
Source: http://www.rahana.org/archives/25655 and http://www.iranpresswatch.org/fa/post/1258