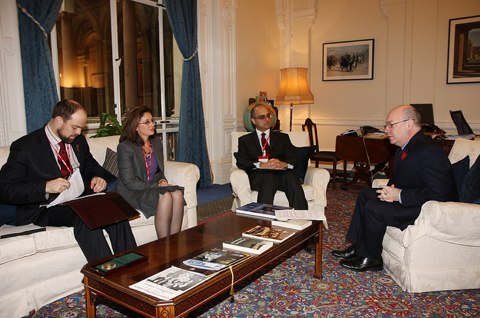 LONDON 9 Nov – Representatives of the UK Baha'i community met today with Alistair Burt MP, FCO Minister with responsibility for the Middle East, to raise their concerns about the human rights of the Baha'is in Iran.
"We expressed our grave concern about the ten year prison sentences handed down to the seven former members of the Friends in Iran, the group that looked after the needs of the Baha'i community in Iran," said Dr Kishan Manocha, the community's Director of External Affairs.
"We are grateful to Mr Burt for his sympathetic hearing and for the support the beleaguered Baha'is in Iran have had from the Foreign and Commonwealth Office over many years."
The seven imprisoned Baha'i leaders are Fariba Kamalabadi, Jamaloddin Khanjani, Afif Naeimi, Saeid Rezaie, Mahvash Sabet, Behrouz Tavakkoli, and Vahid Tizfahm. Mahvash Sabet was detained in March 2008 and the other six have been incarcerated since May 2008.
False charges
The seven were charged with, among other things, espionage, propaganda against the Islamic republic, the establishment of an illegal administration – charges that were all rejected completely and categorically by the defendants.
Their real crime is being members of the Baha'i Faith, a religion which has been the focus of a systematic, government-sponsored persecution in Iran since the 1979 revolution.
Indeed, the trial of the seven in many ways was the trial of an entire community of more than 300,000 Iranian Baha'is. Over the last 30 years, more than 200 Baha'is have been killed, hundreds more imprisoned, and thousands deprived of jobs, education, and the freedom to worship.
The trial of the seven Baha'i leaders ended on 14 June 2010 after six brief sessions, characterized by their lack of due legal process.
The initial sentence of 20 years imprisonment for each of the defendants, met with outrage and condemnation throughout the world. The jail terms were later reduced to 10 years, according to information conveyed orally to their lawyers.
International support
Foreign Secretary William Hague, the Archbishop of Canterbury, the Chief Rabbi and Cherie Blair are amongst the prominent people who have spoken out in support of the persecuted Baha'is.
"The Iranian judiciary has repeatedly failed to allay international and domestic concerns that these seven men and women are guilty of anything other than practising their faith," Mr Hague said.
"It is clear that from arrest to sentencing, the Iranian authorities did not follow even their own due process, let alone the international standards to which Iran is committed."
Further information
Further information can be found on the site of the Baha'i World News Service.
Picture © 2010 Foreign and Commonwealth Office
—
source: http://bahainews-uk.info/2010/11/09/uk-bahai-representatives-meet-government-minister/