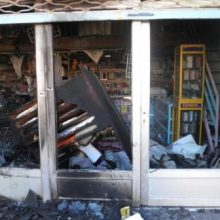 Iran Press Watch carried a story of Rafsanjan where Baha'i businesses were set on fire and a threatening letter was left behind. [See here and here] The stories had a partial translation of the letter into English. The full translation by Iran Press Watch is shared with you here.
The Editor
—
In the Name of God
Warning and Commitment letter
Members of the misguided Baha'i cult in the city of Rafsanjan:
Fighting against disbelief (rejection of religion) and polytheism, especially against a cult whose supporters are the biggest enemies of Islamic Iran- Israel and the US is the duty of each and every Muslim. Since you, contrary to the laws of the Islamic Republic of Iran, preach and propagate [your religion], you will not be entitled to any citizenship rights or security. However, since the enlightened Islamic religion permits entering into contracts between Muslims and non-Muslims to guarantee protection of the lives and properties of the latter, we inform the Bahas of this city that if you accept our conditions mentioned below, we will not aggress your life and properties. But if you do not accept the terms of this treaty, it will be interpreted as your insistence on hostility toward the Muslim and Shiite residents of the city, and we shall uproot the basis of imperialism in this city through our Jihadi actions. Inshallah (God willing).
The terms of the treaty:
1. Refraining from propogating and preaching the Baha faith even in cyber space (internet)
2. Refraining from relationships and friendships with Muslims except in the work and business context
3. Refraining from hiring Muslim employees by Baha shopkeepers
Since in the books of Rouhi Foundation, friendship with Muslims has been greatly encouraged as a means of preaching, any unnecessary friendship and ties outside the business framework will be considered an attempt to preach [your religion], and will be deemed violation of the terms of this treaty.
Baha'is accepting the content of this commitment letter, should email us at
in the following manner. Otherwise, they should not expect security for their life and possessions.
Every Baha'i family accepting this commitment letter can do it collectively, or any member of the family accepting it can complete it and send it to us as an email, in the following manner.
Sample of Commitment Letter
' I, Ali Shaker Ardakani, son of Zabih'u'llah and my wife, Marooneh Zare'ianJahromi, daughter of AbbasAli, and our children Matin, Lua and Rabi' accept the terms of this commitment '
As the Baha'i Administration would likely oppose the signing of this Commitment Letter, those people who take action to send the commitment letter should be assured that their identity shall for ever remain confidential.
As this Commitment Letter is sent to certain Baha'is, it is the duty of every Baha'i ( receiving it ) to inform his relatives and other Baha'is about it. It is particularly the duty of Iraj Missaghian to notify all Baha'is about it and any failure to publicize the commitment letter shall have repercussions against Baha'i Administration "
—
the original letter in Persian: