International reactions to the situation of the Baba'is in Iran has been heartwarming for the Bahais all around the world. (see BWNS for more details). One recent reaction is a letter sent by the Dutch parliament to the Iranian Parliament.  The letter which was issued on 17 March 2011, is from the Standing Committee on Foreign Affairs in the Dutch Parliament, and signed by all political parties. It was sent to four members of the Iranian Parliament.  The initiative was taken by Open Doors International and Bahá'í Community Netherlands.
The letter expresses "deep concern about reports on violations of the right to freedom of religion or belief" in Iran and calling for the immediate release of the seven imprisoned Bahá'í leaders. Also the letter urged a change in policy regarding the Bahá'í Community, call for the release of a Church leader who has been sentenced to death, and another Iranian citizen who has been accused of apostasy.
See the full text of the letter here: Parliament of the Islamic Republic of Iran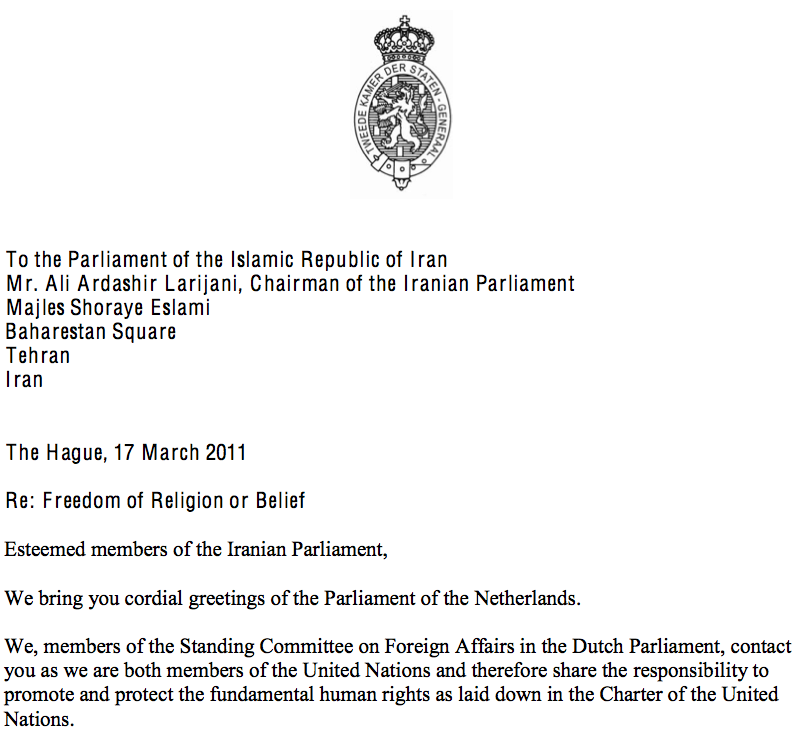 Editor.
—
Source:
Baha'is of Netherlands: http://www.bahai.nl
Persecution of the Baha'is in Iran: http://www.bahai.nl/read/persberichten
Message: http://www.bahai.nl/sites/bahai/files/site44_20110318164216_1_20110317iranbriefparlement.pdf