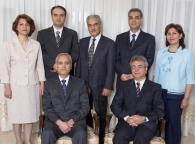 (CHRR – 18 March 2011) According to reports received today, each of the seven Baha'i community leaders were sentenced to 20 years imprisonment in the appeals court. They have been notified of their sentence in prison.
On 15 September, the court only announced "orally" to their defense lawyers that the Baha'i leaders' sentences were reduced by half—from 20 years to 10 years. However, today's report confirms a 20-year sentence, ignoring the change from September.
Their 20-year sentence—totaling 140 years for the seven Baha'is together— was initially handed down in August 2010 by Branch 28 of the Revolutionary Court.
On 13 March, the wife of one of the prominent Baha'i community leaders, Jamalden Khanjani, passed away, but the authorities refused to release him and prevented him from attending his wife's memorial services. Reports also indicate a massive presence of security forces at the memorial for Khanjani's wife.
Fariba KamalAbadi, Mahvash Sabet, Jamaledin Khanjani, Afif Naimi, Saeed Rezaei, Behrooz Tavakoli, and Vahid Tizfahm have been in temporary arrest for over 3 years, with repeatedly illegal sentences. A few months ago, all seven were moved to Rajaii Shahr Prison and were placed in cells under terrible conditions. The Baha'i International Community expressed its concern about one of the Baha'i prisoners' situation: "Ms. Fariba KamalAbadi has experienced physical threatening from other prisoners since she has moved to Gohardasht prison."
Six of the seven leaders of the Baha'i community in Iran were arrested simultaneously by security guards on 14 May, 2008. The seventh leader, Ms. Mahvash Sabet, has been in prison since 5 March, 2008.
—

Source: http://www.chrr.biz/spip.php?article13596