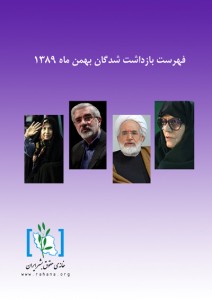 (RAHANA, 15 March 2011) According to confirmed reports, during the month of February 2010, more than 332 political and civil activists, students, and protesting citizens were arrested.
Iran witnessed a new wave of arrests, including the detention of many journalists and political and civil activists following the refusal by the Ministry of Interior to issue a permit for the demonstrations that took place on February 14th, 2011; demonstrations that were called upon by Mir Hossein Mousavi and Mehdi Karroubi in support of the people of Egypt and Tunisia.
According to reports by the Human Rights House of Iran (RAHANA) between the 10th and the 14th of February, at least 30 political and civil activists were arrested across Iran. The February 14th demonstrations also lead to large scale arrests of ordinary citizens.
Despite claims on February 16th by the deputy chief of police Sardar Radan that the names of the 150 protesters arrested on February 14th would be published in the near future, no such attempt has been made to date.
According to Yadollah Movahed, the public prosecutor for the Revolutionary Court in Kerman, 17 citizens were arrested during the demonstrations that took place in that city.
Contrary to the claims by Sardar Radan, media outlets and human rights organizations inside Iran point to a much larger number of arrests. RAHANA has been informed of large scale arrests in Tehran, Mashhad, Shiraz, Rasht and Esfahan. Hundreds of detainees were transferred to detention centers such as the "The IRGC Detention Center in Afsariyeh" "Fateb Headquarters around Enghelab Square" and "the Security Police Headquarters on Shariati street". According to claims by some of the detainees, at minimum 100 – 150 citizens were being held at each of these centers. RAHANA therefore estimates that more than 332 citizens were arrested during the month of February. 163 of these arrests were published and confirmed by government authorities and Iran's judiciary.
Many of those arrested were released either on the same night or a few days after the demonstrations. Some of the detainees were however transferred to Evin prison. Reports indicate that approximately 200 citizens were arrested in Mashhad. Although many of those arrested in Mashhad were also released on the same night, a number of students remain behind bars. There have also been numerous reports of arrests in Esfahan and Shiraz. The number of detainees in these cities however, remains unclear.
The day after the February 14th demonstrations, the leaders of the Green movement Mir Hossein Mousavi, Mehdi Karroubi and their spouses Zahra Rahnavard and Fatemeh Karroubi were put under house arrest and later transferred to an undisclosed location. Judicial authorities and government officials have refused to explain why they were arrested, nor have they clarified the whereabouts of the Green leaders leading to continued concern regarding their well being.
At least 71 students, 32 political activists and 8 journalists were arrested and transferred to prison during the month of February. It is worth mentioning that 14 religious minorities, the majority of whom were Baha'is, 2 women's right activists, 6 Arab activists and 3 Kurdish activists were also arrested in February. Of the 163 published arrests, 13 were women.
The report is here: PDF file in English containing the names of the individuals arrested in Iran in January/February 2011
—

Source: http://www.rahana.org/en/?p=10489