by Fereshteh Ghazi
interview, May 9, 2011,
Families of Female Political Prisoners Transferred to Varamin's Qarchak Prison in Interview with Rooz:
The families of several female political prisoners raised alarm about their transfer to the Qarchak prison in the city of Varamin, announcing that the prison lacks the most basic and humane conditions.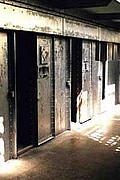 Fariba Kamalabadi's mother, Shahra Kamalabadi, and Shabnam Madadzadeh's father, Abdolali Madadzadeh, told Rooz that Varamin's Qarchak prison lacks the most basic facilities for a prison, putting the lives of the female political prisoners transferred there in grave danger.
Nine female political prisoners were transferred last week to Varamin's Qarchak prison, and their families are deeply concerned about their mental and physical well being. In a letter from prison, the women announced that they would go on hunger strike if the present conditions continue.
One of the prisoners transferred to Qarchak is Fariba Kamalabadi, a member of the 7-person Yaran group (leaders of the bahai community in Iran), who has been sentenced to 20 years in prison. In an interview with Rooz, her mother, Shahla Kamalabadi says: "There are only 4 bathrooms for more than 300 people.  You can imagine how long someone has to wait in line to use the bathroom, and how dreadful that is. They have to wash their clothes and dishes in the bathroom too, and we are very concerned. The conditions in prison are in no way humane. Even animals aren't treated the way they treat these human beings."
She adds: "They've thrown everyone in a big room, which was a barn before it was used for raising chickens. Now they are keeping the female prisoners there. Fariba said that there are only a few bunk beds, and everyone else sleeps on the floor. There is no security either, because all kinds of prisoners are held there."
Shabnam Madadzadeh's father, Abdolali Madadzadeh also tells Rooz that his daughter has told him on the phone that she is held at a place that is more like a stable, with no security.
Shabnam Madadzadeh is the former political director of Tehran Teachers College's Islamic Student Association. She was arrested in 1387 [2008-2009] and sentenced to five years in prison on charges of moharebeh [armed resistance against state] and acting against national security. She told her father about the Qarchak prison, "Illness means death here, and fighting and torture are everyday events. There is no sanitation and no basic facilities, and we even wash our dishes in the bathroom."
Mr. Madadzadeh says that her daughter's life is in danger, adding, "If anything happens to my daughter or other prisons, the responsibility falls with the officials who transferred them to this prison and are holding them under the worst conditions."
—
Source: http://www.roozonline.com/english/news3/newsitem/archive/2011/may/09/article/this-prison-is-more-like-a-stable.html