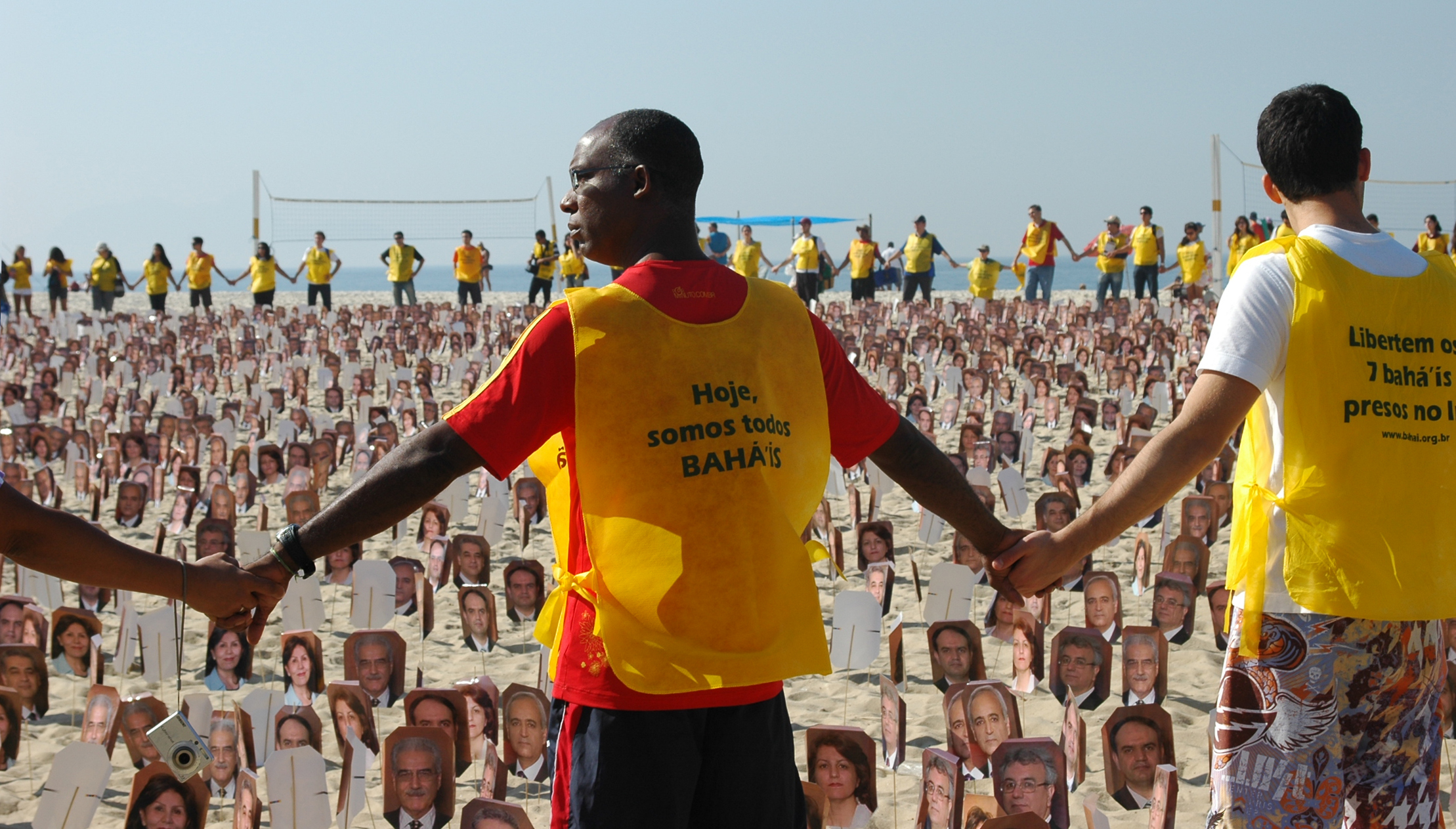 (BWNS 20 June 2011) RIO DE JANEIRO, Brazil —Representatives from government, religious communities and civil society organizations were among the 800 human rights supporters who gathered to call upon Iran to cease its persecution of Baha'is and other religious minorities.

Participants travelled from all over Brazil to take part in the rally, held at Rio's Copacabana Beach yesterday, some spending up to 15 hours on buses to get there.
Almost 8,000 images depicting the faces of Iran's seven imprisoned Baha'i leaders were on display at the beach, corresponding to the number of days of detention the seven had suffered after three years in prison. The photographs were arranged in a large circle, representing the world, and the union of people of all races and nations.
In his remarks, Brazilian congressman Chico Alencar set the tone for the day's activities, saying, "Religious freedom is something that cannot be touched."
A Jewish participant, Natan Klabin, agreed. "We know well what it is to be persecuted because of one's religion, and thus we know how important it is to show solidarity with other repressed minorities," he said.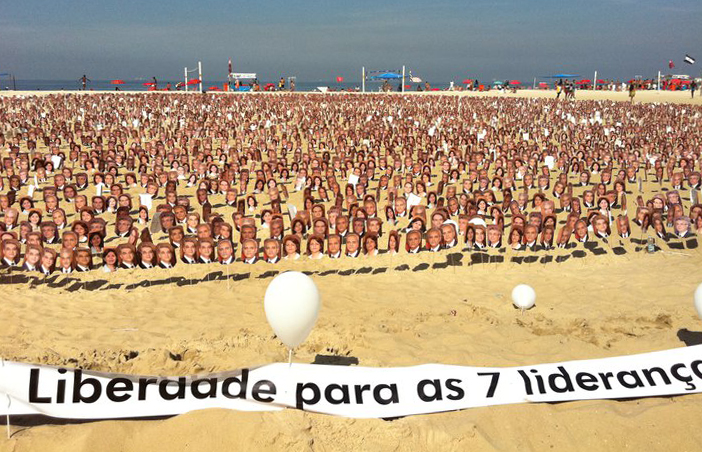 Babalowa Ivanir dos Santos – representing the Afro-Brazilian religion, Candomble – spoke of the persecution his community has often faced. "This is why we feel that we must protest against all kinds of religious intolerance. I hope one day we will no longer need to promote demonstrations like this one, in any country," said Mr. Santos.
One thousand yellow vests – printed with the phrases "Today we are all Baha'is" and "Free the 7 Baha'is imprisoned in Iran" – were distributed, along with leaflets about religious freedom. Musicians also contributed to the programme, performing songs on the themes of freedom and solidarity.
Brazilian Baha'i Iradj Eghrari said that demonstrating solidarity among religions is essential to show the Iranian authorities that persecution is not only a matter of concern for Baha'is.
"If a person does not demonstrate support towards persecuted religious minorities, he or she may well be the next victim of religious intolerance," said Mr. Eghrari.
The seven imprisoned Baha'i leaders were members of a national-level ad hoc group that helped attend to the needs of Iran's 300,000-strong Baha'i community. After an illegal 30 month detention, they were tried on trumped-up charges and each sentenced in August 2010 to 20 years in jail.
—
Source: http://news.bahai.org/story/834