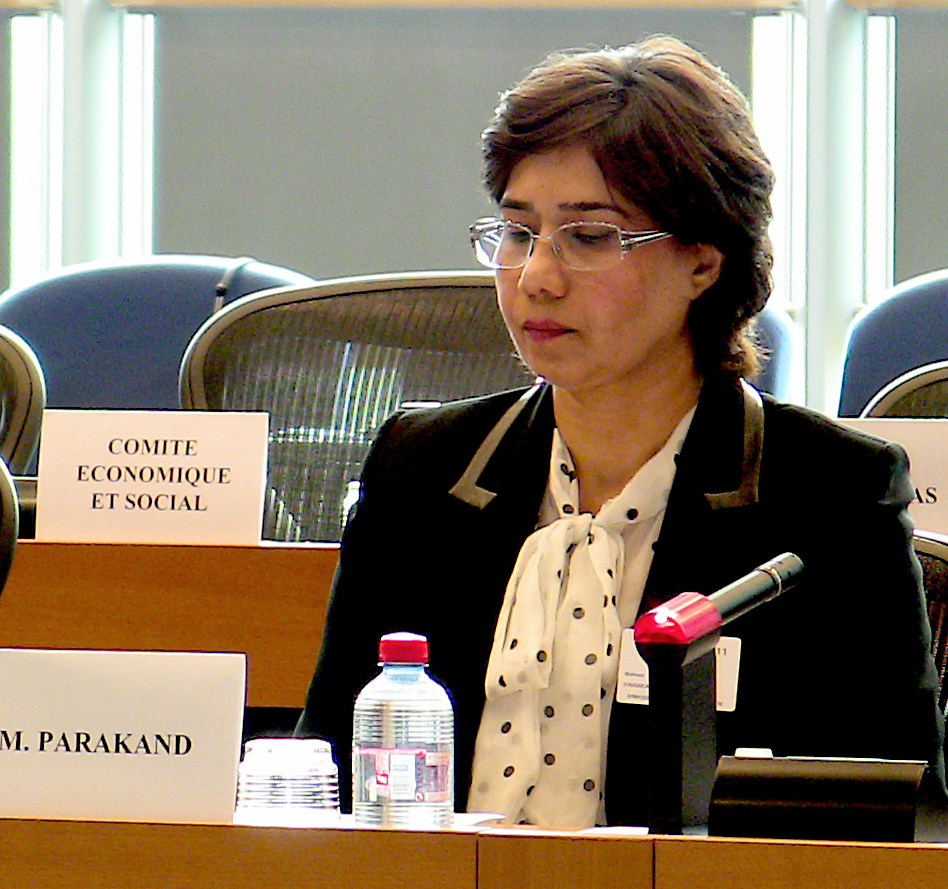 [BWNS 29 June 2011] BRUSSELS, Belgium — One of the lawyers who defended Iran's seven imprisoned Baha'i leaders has made an impassioned plea for justice during an extraordinary meeting held at the European Parliament.
Mahnaz Parakand told the meeting that the expectation of the people of Iran is "not to be left alone by the governments and international organizations whose primary policy is the respect of humanity and human rights…"
All of Iran's peoples are "held in a large prison named the Islamic Republic of Iran," she said, "under various oppressions and sufferings, and are imprisoned, tortured and executed for a number of allegations."
The meeting, held yesterday at a conference room within the European Parliament, was Ms. Parakand's first public appearance since fleeing her homeland after learning she was about to be arrested for her support of the seven Baha'i leaders and other cases, including that of Nasrin Sotoudeh – herself a lawyer, sentenced to 11 years in prison for representing human rights activists.
Members of the European Parliament – joined by staff from the European Commission and the European External Action Service – heard Ms. Parakand give a detailed account of the case of the seven, and of the escalating persecution faced by their co-religionists.
"The pain and suffering that the Baha'is have to endure are in addition to the cruelties suffered by all the people of Iran," she said.
Expressing gratitude that she could "talk freely and without any restrictions, and without feeling unsafe and being afraid of being imprisoned and tortured," Ms. Parakand said she felt honoured to be "the voice of the martyrs who were executed merely for their beliefs," and "to speak loudly on behalf of those who spent a number of years in prison and were tortured merely for voicing their opinion…"
Ms. Parakand said that she also spoke on behalf of "those who are barred from employment in government positions and those who have been deprived of higher education; those whose homes have been destroyed and even their cemeteries desecrated only for their beliefs; those individuals who are constantly harassed when pursuing private businesses, because of having a belief other than the one that is ruling the country."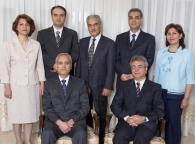 Alluding to the Iranian authorities' recent attack on the Baha'i Institute for Higher Education – a community initiative offering higher education to young Baha'is barred from university – Ms. Parakand said she represented "the people who are deprived of having any kind of institutions for the education of their children, who are barred from entering schools and public universities.
"If there are such institutions, they are closed and their managers are arrested and imprisoned," she said.
"I want to talk about those children who are not free to express their beliefs, otherwise they would be dismissed from school; talk about those who do not have the freedom of choosing their own friends and whose friendship with individuals who are not Baha'is is considered to be teaching the Baha'i Faith, leading to their being imprisoned and tortured."
A catalogue of injustices
Ms. Parakand is a member of the Defenders of Human Rights Centre, founded by Nobel Peace Prize laureate Shirin Ebadi, which handled the defence of the seven Baha'i leaders. At yesterday's meeting Ms. Parakand was able to provide the first detailed account of what happened behind closed doors during the trial of the seven Baha'i leaders last year, presenting a long list of injustices and legal mis-steps by the Iranian court system.
These included the clandestine arrests of the seven – without summons – in 2008; their initial detention in solitary cells, without contact with their families; individual interrogations and their illegal imprisonment for more than two years without access to legal counsel; their trial on trumped-up charges; and the subsequent appeal procedure that saw their 20-year sentences reduced to 10 years, and then reinstated.
"The bill of indictment that was issued against our clients…was more like a political statement, rather than a legal document," recalled Ms. Parakand. "It was a 50-page document…full of accusations and humiliations leveled against the Baha'i community of Iran, especially our clients. It was written without producing any proof for the allegations.
"There was only one bill of indictment issued for all the seven leaders…against all the legal standards, without specifying what kind of offence each one of them had been accused of," she said.
The meeting heard that prior to the trial, during the two and a half years of illegal detention, neither Ms. Parakand nor her colleagues were allowed to visit their clients.
"We diligently studied the case file, which contained over 2,000 pages, over the period of one month and studied each page carefully, trying to find out how and based on what reason, document, proof or witness the freedom of seven individuals had been taken away from them in that manner. Fortunately, we could not find any document or legal reason proving that any of the accusations that were leveled against our clients were true," she said.
"We were hoping that they would be exonerated, as there was no reason for them to be convicted."
After reviewing the case file, the lawyers were allowed only one meeting with the prisoners. "Our visit with the clients was conducted in such a condition that the prison authorities were monitoring, and the women present were clandestinely taping our conversation…This act violates the right of the clients to freely describe what happened to them in prison," explained Ms. Parakand.
Recalling the trial, Ms. Parakand spoke of numerous violations of legal procedures, and the presence in court of Ministry of Intelligence agents, intended to intimidate the defendants.
"One of the conditions of a fair trial is the impartiality of the presiding judge," said Ms. Parakand, whereas in this case, "the presiding judge…was using the same language and phrases outlined in the bill of indictment such as 'perverse Bahaist sect.' This clearly shows the lack of impartiality of the presiding judge and an unfair trial based on one's belief."
During the trial, the judge often cut short the clients' defence statements on the pretence that their argument was considered to be 'teaching Bahaism', she said.
"The injustice imposed upon our clients…is a reflection of the oppression forced upon all the Baha'is who live in Iran," added Ms. Parakand.
Appeal for continued action
Ms. Parakand concluded by urging governments and organizations to demand that Iran modify its internal discriminatory laws against intellectual and religious minorities, and coerce those countries that violate human rights to follow precisely the content of the Universal Declaration of Human Rights and International Covenant on Civil and Political Rights.
She also appealed to the European Union to send a representative to Iran to investigate the situation of the seven Baha'i leaders, "to improve their unlawful current circumstances and to take necessary measures for their immediate release."
Ms. Parakand's appearance at the European Parliament was at the invitation of Barbara Lochbihler, a German MEP, who is the chair of the Parliament's delegation for relations with Iran. Ms. Lochbihler assured Ms. Parakand that the situation of human rights in Iran is not forgotten.
In addition to the seven leaders, some 90 Baha'is are currently imprisoned in Iran, including nine staff and faculty members of the Baha'i Institute for Higher Education, still detained after raids on 39 Baha'i homes last month.
Special Reports
The Baha'i World News Service has published a Special Report which includes articles and background information about the seven Iranian Baha'i leaders – their lives, their imprisonment, trial and sentencing – and the allegations made against them. It also offers further resources about the persecution of Iran's Baha'i community.
Another Special Report includes articles and background information about Iran's campaign to deny higher education to Baha'is. It contains a summary of the situation, feature articles, case studies and testimonials from students, resources and links.
The International Reaction page of the Baha'i World News service is regularly updated with responses from governments, nongovernmental organizations, and prominent individuals, to actions taken against the Baha'is of Iran.
The Media Reports page presents a digest of media coverage from around the world.
—
Source: http://news.bahai.org/story/836