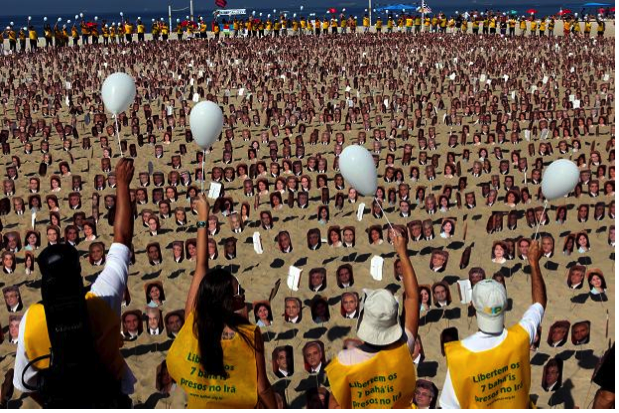 Michael Binyon
July 29 2011 5:34PM
[thetimes.co.uk, 30 July 2011] Few religions have known such vicious persecution in the land of their birth. The Baha'is, for the past 30 years, have suffered systematic discrimination and harassment by the Iranian authorities. Their leaders have been arrested and tortured, their homes raided, their teachings forbidden and their communities shunned as pariahs.
Since the Khomeini revolution in 1979 Iran's 300,000 Baha'is have been denounced as apostates and infidels, enjoying none of the Koranic protections afforded to Christians and
Jews.
The intimidation has recently intensified pace. Three years ago seven Baha'i leaders were arrested, accused of spying for Israel, spreading corruption and acting against the State. Eventually all the charges were quashed except that of tending to the spiritual and social needs of their community — a charge that proves, senior Baha'is insist, that what lies at the heart of the persecution is the hatred by Islamist extremists of the Baha'i faith itself.
"We are gravely concerned about the situation," said Kishan Manocha, a member of the National Spiritual Assembly of Baha'is in the UK. "The regime is fostering a climate of hatred. Baha'is in Iran have no constitutional rights. More than 100 are in prison at the moment. They are ordered not to practise their faith. There are striking similarities with the way Jews were treated by the Nazis."
Silence and secrecy were not an option, however. "To practise our religion in secret is tantamount to giving up our faith," Dr Manocha said. Already in 1983 his co-religionists in Iran had been forced to disband their administration. After further arrests in 2008 even the ad hoc leadership was dissolved. Baha'is have no ecclesiastical orders, but have been left with almost no effective way of transmitting their beliefs or holding their community together.
The Baha'i faith is the youngest of the world's independent religions, founded by Baha'u'llah in Iran in the 19th century. Today its adherents number more than five million, in almost every country of the world. It is, adherents claim, the second most geographically widespread religion after Christianity, with communities established almost a century ago in Europe, Canada and the US. They are most numerous in India, where there are around 1.6 million. In Britain there are about 6,000, and they possess an elegantly tranquil headquarters in a London house just off Hyde Park.
The Baha'is forbid proselytising, as Baha'u'llah taught that each individual should be free to seek the truth free of coercion or compulsion. Any attempt to win Muslims to the faith would also arouse fierce opposition in Muslim countries, where Baha'is have been seen as a deviance from Islam. But quiet example has inspired a growing interest, especially in Western Europe, and the community has recently seen a resurgence as younger members have been engaged in social outreach and community work.
In Swindon, for example, Baha'is have been working in schools as volunteers to help to instil a respect for spiritual values and to counter the disaffection among young people. It is, Manocha said, an inclusive process, not in competition with other faith groups. This "call to service" is not obligatory but is widely observed by Baha'is who insist that their faith enjoins them to "cultivate capacity" and act as effective agents of social change. "To become a Baha'i is not difficult," Manocha says. "There is a general search for receptivity, and we tap into it. Anyone who looks at it and wants to be part of it can do so. This is an individual's choice."
Quoting the teachings of Bah'u'llah, Fidelma Meehan, who grew up as an Irish Roman Catholic, said that "Man is a mine rich in gems of inestimable value". The Baha'i duty was to draw out these treasures in a way that was directed to positive social change. She said the doctrine of "progressive revelation", the notion that all faiths were divine manifestations of a single faith, meant that there was no difficulty for Baha'is to work with Catholics or Protestants or any faith also engaged in community work and spiritual education.
This has proved difficult, however, in countries where religious tolerance is diminishing, especially across the Muslim world. But in Pakistan Baha'is are still recognised in the Constitution as a non-Muslim community. "God willing, there have been no attacks on our community," Manocha said.
He praised efforts by Britain to insist on an end to religious persecution in Iran. "There needs to be constant, robust scrutiny. Iran takes that very seriously. At any human rights meeting, Iran sends out people to assure the world that all is well. It does care, and this matters."
One problem for Baha'is is the coincidence that Baha'u'llah, exiled from Persia, died in Acre, in Ottoman Palestine in 1892. In 1909 the remains of the Bab, Baha'u'llah's forerunner who was killed in 1850, were laid to rest in Mount Carmel in a shrine designated by Baha'u'llah himself. In 1963 the Universal House of Justice, the Baha'i world headquarters, was opened in Haifa — which is now in Israel. This has given Islamist opponents of the faith an easy pretext to accuse Baha'is of connections with Israel, which is one of the charges frequently levelled in Iran.
© Times Newspapers Limited 2011 | Version 1.18.0.4 (21965) Registered in England No. 894646 Registered office: 3 Thomas More Square, London, E98 1XY
Close
In order to view this article, the recipient must be a subscriber to thetimes.co.uk
LinkedIn Twitter
http://www.thetimes.co.uk/tto/faith/article3109770.ece