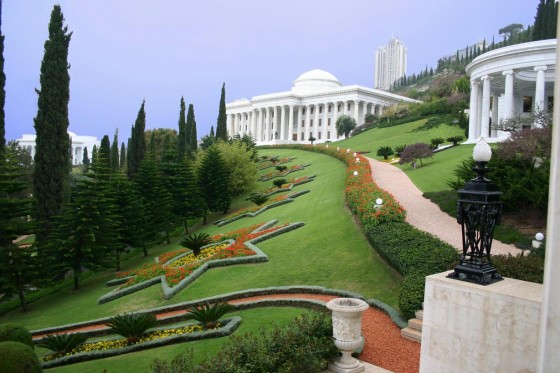 [greenprophet.com, 28 Sep 2011, by Tinamarie Bernard]
Members of the often persecuted Bahai faith are inherently green.
The terrace of the Baha'i Shrine and Gardens in Haifa is the most stunning destination in Israel's third largest city. From the eastern side of the city, along the popular route 4, you first catch glimpse of it rising up towards the sky on your left. An expansive swath of green lawn manicured in layers and flanked by date trees span the height of the northern end of the Carmel mountainside. Year round and from a distance, the vision quite literally draws your gaze towards the impressive site, "a geometric cascade of hanging gardens and terraces down to Ben Gurion Boulevard -a gift of visual pleasure to the city that gave the Baha'i religion its home and headquarters." [see http://www.ganbahai.org.il/en/ for pictures of the Terraces]
[…]
Baha'i Prosecutions
Though they do not describe themselves as an Abrahamic religion, in many Islamic countries Baha'i believers are often considered as apostates of the Muslim Faith, and several hundred have been executed. Baha'i experience continued persecution in parts of the Middle East including Egypt and Iran, where this modern independent religion, the second fastest growing in the world by percentage, was birthed in the 1800s.  Religious restrictions continue in places like Afghanistan, Algeria, Indonesia and sub-Saharan Africa, though India is home to the largest segment. 2.2 of the 6-7 million worldwide live in India, with followers in over 200 countries.
Recently, Israeli Baha'i followers were charged as Zionist spies by the Iranian government, their story making the front page of international news agencies.
The relationship to Israel goes back to the time of the Ottoman rule, when the religious leader and co-founder of the faith, Bahá'u'lláh (1817 – 1892), was banished to Akko by the Turks. His spiritual predecessor, Siyyid `Alí-Muhammad, who took the title, Báb (which means gate in Arabic), had been executive in their native Persia in 1850.  Despite over 20 years of banishment in Israel, Bahá'u'lláh and his followers established a flourishing spiritual community. Today their presence in Israel is obvious to residence and visitors to northern Israel, particularly during the springtime, which coincides with the Baha'i celebration of their calendar New Year (March 21, the Spring equinox).
—
Source: read full article here: http://www.greenprophet.com/2011/09/bahai-israel-environmentalism/