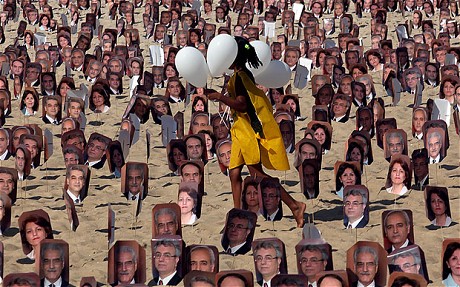 [The Telegraph, 10 Oct. 2011]

By Adrian Blomfield, Middle East Correspondent.
The move comes after authorities in Tehran stepped up measures to prevent members of the faith receiving a university education.
In a letter to The Daily Telegraph, 43 prominent professors and lecturers in the fields of theology and religious studies demanded the reversal of a ban imposed on Iran's Baha'i institute for Higher Education and the release of 11 of its members of staff from prison.
The suppression of the institute represents just the latest in a series of assaults on Iran's 300,000 Baha'is by the country's Islamic government, hundreds of whom have been detained and even tortured in recent years.
The institute was itself the product of persecution, founded in 1987 after Baha'is were shut out of all forms of tertiary education under an edict by Iran's ayatollahs.
Run by Baha'i volunteers, it offered young members of the faith their solitary option of gaining a university degree – even if many students had to complete their courses through secret correspondence to avoid official harassment.
"Attacks such as these, against the rights of citizens to organise and be educated in freedom, can no longer be tolerated," the academics wrote. "We call upon the Iranian government not only to cease its persecution of the Baha'is, but to provide, and promote, education for all."
The world's youngest monotheistic faith was born in Iran in the 19th century, and its adherents have grown in number across the world. But in the country of their creed's birth, Baha'is have suffered at the hands of officialdom for more than a century – well before the Islamic revolution of 1979.
But the plight of religious minorities has worsened since the ayatollahs came to power. The State Department in the United States this year condemned a campaign of repression against Baha'is, Christians, Jews and minority Muslim groups.
Seven prominent Baha'i leaders are in prison serving 20 year sentences because of their beliefs and scores more are also believed to remain in custody.
Baha'is are also shut out of many jobs, particularly in the public sector, and are routinely denied the licenses necessary to open a business.
Official suspicion of the Baha'is in Iran is also attributed to the fact that the faith's world headquarters is situated in the Israeli city of Haifa, giving Islamists a pretext to accuse them of being Zionist spies.
—
Source: http://www.telegraph.co.uk/news/worldnews/middleeast/iran/8816662/Religious-academics-denounce-persecution-against-Irans-Bahai-minority.html