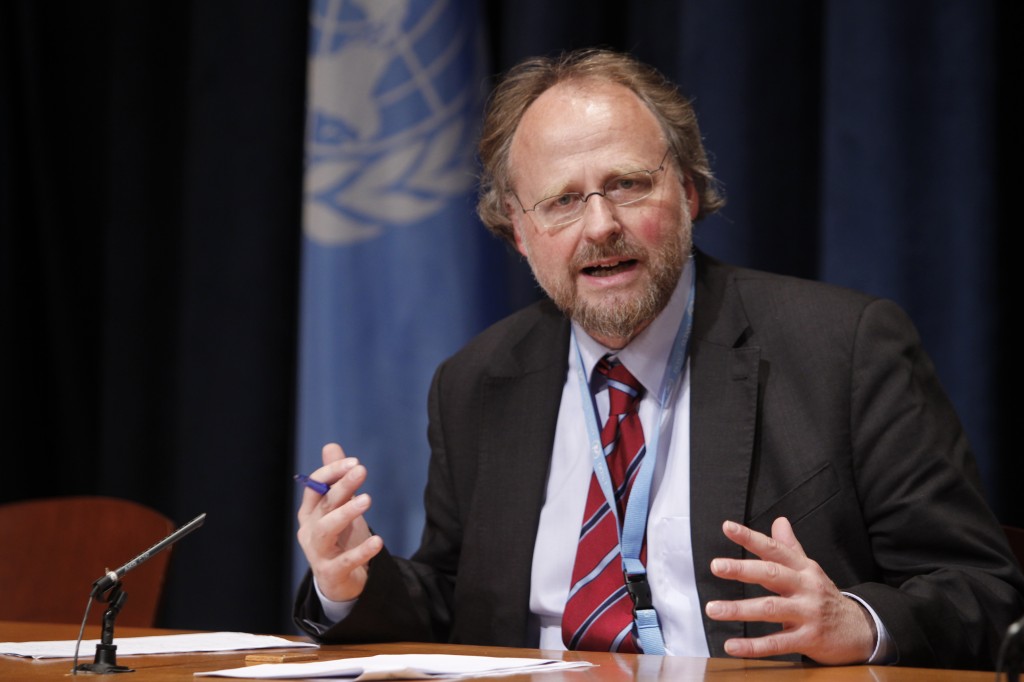 [BWNS 23 Oct. 2011] UNITED NATIONS — Iran's persecution of Baha'is is among the most "extreme manifestations of religious intolerance and persecution" in the world today, according to a UN expert.
The remarks of Heiner Bielefeldt – Special Rapporteur on Freedom of Religion or Belief – came during a press conference here in response to a question about a new report [click here to see the report form IPW's repository] that documents the Iranian government's media campaign to demonize Baha'is.
"The Iranian government has a policy of systematic persecution…" said Dr. Bielefeldt, "with the view of even destroying that religion worldwide…It's a very clear, clearly articulated policy of extreme hostility."
Asked whether he had received any response from Iran to his statements on the issue, Dr. Bielefeldt replied, "The typical response is the following: Bahaism is not a religion, it's a cult, it's an evil cult."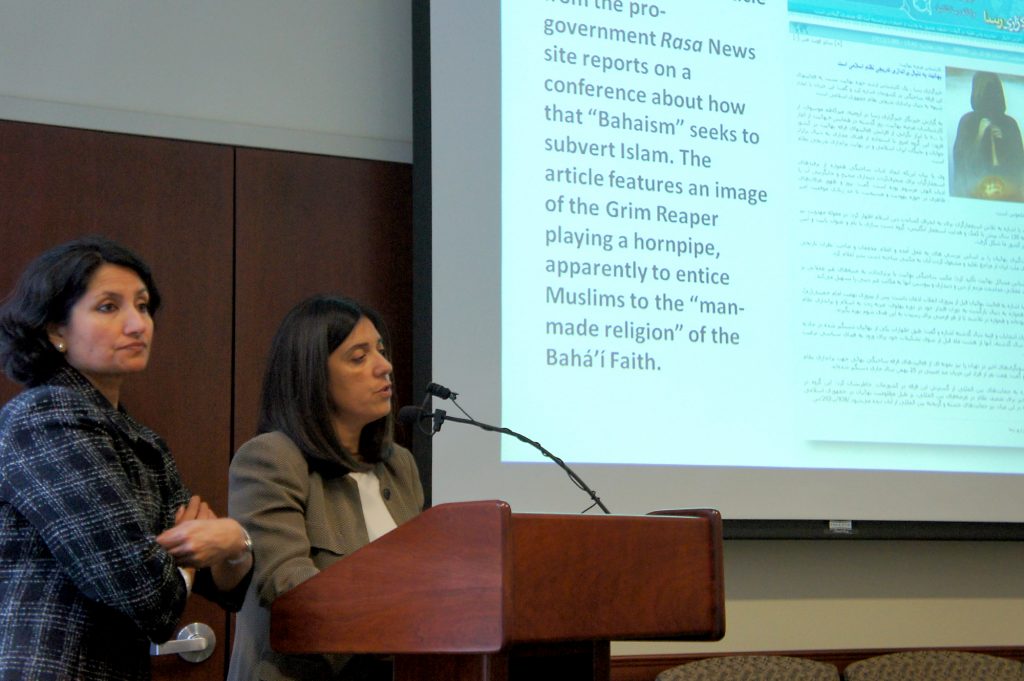 "They distinguish…between genuine religions – in their understanding the divinely revealed religions Judaism, Christianity and, of course, Islam – and the rest," he said. "So this is a problem.
"I mean they really excommunicate, systematically, the Baha'is from the application of freedom of religion or belief by simply denying their faith to have the status of a religion. And this is something states cannot do."
Freedom of religion or belief is a fundamental human right, he said at the press conference on Thursday.
"The starting point must be the self-understanding of human beings. Their deep convictions…That is what counts," he said.
Inciting Hatred
One aspect of the Iranian government's campaign against Baha'is is documented in the report, Inciting Hatred: Iran's media campaign to demonize Baha'is, which provides evidence of a state-sponsored strategy to vilify the Baha'i community.
The report, launched on 21 October, highlights false accusations of Baha'is being involved in a variety of subversive practices including being anti-Islamic, morally corrupt, and agents for foreign powers.
Responding to the findings, Faraz Sanei – Iran researcher with the Middle East and North Africa division of Human Rights Watch – told CNN that rights groups have long documented Iran's actions against Baha'is, designed to "deprive them of their ability to freely manifest the beliefs and teachings of their faith."
The report, said Dr. Sanei, provides "valuable insight into the mechanics of a less documented and more insidious element of this campaign – anti-Baha'i propaganda propagated by official and semi-official media outlets, and the degree to which hate speech further exposes an already vulnerable minority group to discrimination and attacks by private actors."
At the report's launch, Bani Dugal – Principal Representative of the Baha'i International Community to the United Nations – noted that Baha'is in Iran "are particularly vulnerable to campaigns such as this because they don't have any right to reply."
Special Section – Inciting Hatred: Iran's media campaign to demonize Bahá'ís
A Special Section of the Baha'i International Community United Nations Office website presents the full report, Inciting Hatred: Iran's media campaign to demonize Bahá'ís in English and Persian, as well as an online only 197-page appendix that summarizes each of the 400-plus documents or articles that were collected during the period of this survey, from 17 December 2009 to 16 May 2011.
—-
Source: http://news.bahai.org/story/862