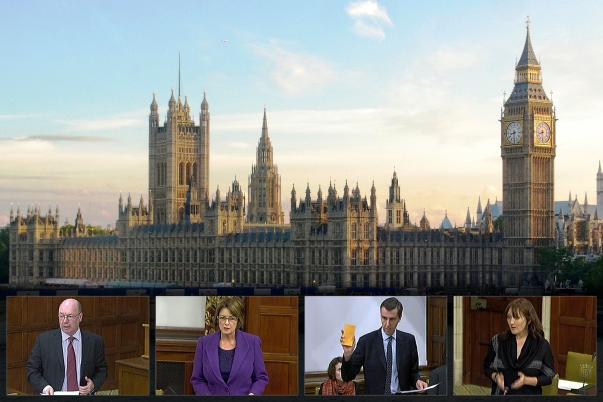 [BWNS, 13 Jan. 2012] LONDON — Members of Parliament here have sharply criticized Iran for its human rights violations, focusing especially on the "steep rise" in the persecution of religious minorities.
In a debate held at Westminster Hall on Wednesday 11 January, MPs highlighted the fact that virtually every religious minority in Iran is now facing oppression.
Some 19 MPs, representing the UK's three major parties, participated in the debate.
Watch video coverage of the debate, here.
Read a transcript of the debate, here.
In the opening speech, Louise Ellman, MP for Liverpool Riverside, described the persecution of Baha'is as "pervasive and escalating dangerously."
"The repression takes a number of forms in an ongoing and systematic persecution," said Mrs. Ellman. "It means arbitrary arrest and imprisonment and the denial of access to higher education and areas of employment. The homes and businesses of Baha'is have been subject to arson attacks, cemeteries have been destroyed, and children have been harassed."
She also expressed concern over the 20-year prison sentences being served by seven Baha'i leaders and Iran's continuing effort to bar young Baha'is from higher education.
Noting remarks made recently by Canadian Senator Romeo Dallaire, Mrs. Ellman said that it "is extremely important that the world does not wait until there is a genocide. It should heed warning and take further action to put pressure on the Government of Iran to stop what they are doing."
Participants also raised the issue of the increasing persecution of Christians in Iran. Andrew Selous, MP for South West Bedfordshire, reported that at least eight Christian leaders have been murdered since 1979, and expressed particular concern over the case of Pastor Youcef Nadarkhani, who was sentenced to death for apostasy in 2010 and has since been the focus of an international outcry.
Stewart Jackson, MP for Peterborough, spoke of "regular raids on gatherings" of Christians, "harsh interrogations and torture…including demands for the recantation of faith and for information on the identities of fellow Christians; detention for long periods without charge and other violations of due process; convictions for ill-defined crimes or on falsified political charges; the economic targeting of the Christian community through the demand of exorbitant bail payments; and the threat of imminent execution of a house-church pastor."
Regarding Iran's Jewish community, Martin Horwood, MP for Cheltenham, reported "increasing evidence that anti-Semitism is growing there, and that the small Jewish community there is being blamed for the actions of the Israeli Government."
At the end of the debate, Alistair Burt, the Parliamentary Under Secretary of State at the Foreign and Commonwealth Office, said that while 2011 showed that demands for human dignity are irrepressible, Iran is moving in the opposite direction.
"Human rights are universal," said Mr. Burt, "and Iran's failure to meet its obligations is punishing and stifling the fulfilment of the wishes and aspirations of millions of people."
Mr. Burt assured those present that the UK will continue to press other countries to support resolutions expressing concern over Iran's human rights record in the United Nations and at the Human Rights Council.
Dr. Kishan Manocha, Director of the Office of Public Affairs of the Baha'i Community of the United Kingdom, has welcomed the wide ranging discussion.
"The fact that such a good number of MPs, representing all parties, participated really reflects a high level of concern about Iran's human rights record, and especially its rising religious intolerance," said Dr. Manocha.
"We are, of course, pleased that Baha'is were prominently mentioned," Dr. Manocha added. "But we are also happy that UK Parliamentarians are focusing on the problems faced by other religious minorities. We need to speak as one on the situation of religious intolerance in Iran."
Baha'i World News Service coverage of the persecution of the Baha'is in Iran
The Baha'i World News Service has published a Special Section which includes further articles and background information about Iran's campaign to deny higher education to Baha'is. It contains news of latest developments, a summary of the situation, profiles of imprisoned Baha'i educators, feature articles, case studies and testimonials from students, resources and links.
Another Special Report offers articles and background information about the seven imprisoned Iranian Baha'i leaders – their lives, their imprisonment, trial and sentencing – and the allegations made against them. It also offers further resources about the persecution of Iran's Baha'i community.
The International Reaction page of the Baha'i World News service is regularly updated with responses from governments, nongovernmental organizations, and prominent individuals, to actions taken against the Baha'is of Iran.
The Media Reports page presents a digest of media coverage from around the world.
—
Source: http://news.bahai.org/story/880