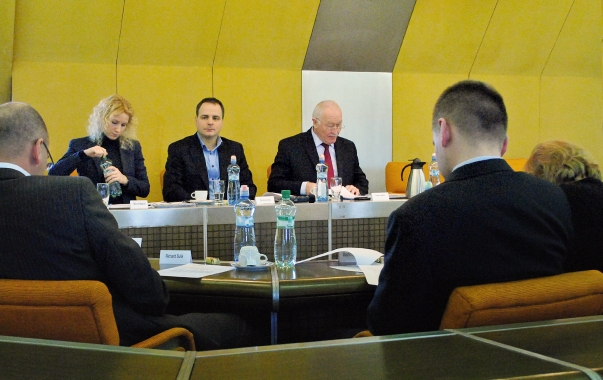 BRATISLAVA, Slovakia —Treatment of the Baha'is in Iran has "escalated to an institutionalised and blatant policy of persecution," according to a proclamation issued by the Foreign Affairs Committee of the Slovakian parliament.
The proclamation describes the Iranian government's incitement to hatred based on religion and belief as "abhorrent." It also states that the "regime's endeavors to persecute Baha'is is chilling indeed," and demands an end to Iran's "spiralling efforts to destroy the Iranian Baha'i community."
Baha'is "must be guaranteed their full and equal human rights" and "be allowed to contribute to the public life and development of Iran along with their fellow citizens," wrote the Foreign Affairs Committee.
"The fact that this Committee has taken on the situation of Baha'is in Iran is important for two reasons," said its chairman, Frantisek Sebej.
"One, because the democratic parliaments of the world must care about and deal with the denial of human rights of suppressed minorities in other parts of the world, at least for the reason that we are the luckier ones who live in a free world and have the obligation to care for others."The second reason is that with such a resolution we can help the Baha'i community."
Noting "a sharp increase in the systematic, government-supported program to destroy the Baha'i community in Iran," the statement also describes the destruction of Baha'i holy sites and cemeteries as an "atrocious blow to religious cultural heritage of significant value for humankind." It calls for the immediate release of the seven imprisoned Baha'i leaders and the Baha'i educators jailed for their association with the Baha'i Institute of Higher Education.
"At issue are denial of the right to life, liberty and security of person; violent attacks; arbitrary arrests and imprisonments; denial of access to education; confiscation and destruction of personal community property; and the denial of employment, pensions and other benefits," the proclamation says.
The Committee – which approved the proclamation at a meeting held yesterday in the building of the National Council of the Slovak Republic – also resolved to send the statement to senior figures in Iran, including President Ahmadinejad.
"Though I do not expect that the Iranian Government will stop the persecution of Baha'is," said Dr. Sebej, "at least it will not dare to do more horrific things while thinking that no one is watching and nobody cares."
Further information
The International Reaction page of the Baha'i World News service is regularly updated with responses from governments, nongovernmental organizations, and prominent individuals, to actions taken against the Baha'is of Iran.
Source: http://news.bahai.org/story/882