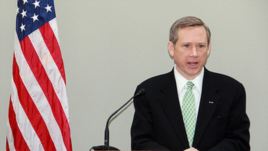 [radio free europe, 30 March 2012] By RFE/RL
WASHINGTON — The U.S. Senate has urged Iran to release jailed leaders of the Baha'i faith.
A resolution passed unanimously on March 30 calls on Tehran to free seven Baha'i leaders sentenced in 2010 to 20 years in prison on charges that included spying for Israel.
The resolution also called on U.S. President Barack Obama to sanction more Tehran officials over human rights violations, including abuses against Iran's Baha'i community.
With some 300,000 members, it is Iran's largest religious minority.
It faced persecution both before and after the 1979 Islamic Revolution.
U.S. Senator Mark Kirk (Republican-Illinois), a chief sponsor of the resolution, said its passage "sends a strong message that the U.S. will hold the Iranian government accountable for violating the basic human rights of its people."
—
Source: http://www.rferl.org/content/us_senate_urges_iran_to_release_imprisoned_bahai_leaders/24532981.html