[19 May 2012] From a laptop computer in his Louisville home, Behrooz Sabet instructs university students in courses on research techniques, educational theory, curriculum development and the like.
But these students live half a world away in Sabet's native Iran, and they are risking their freedom and safety every time they log in, or when they gather in cramped apartment kitchens or basements in Iran for secret classes with professors there.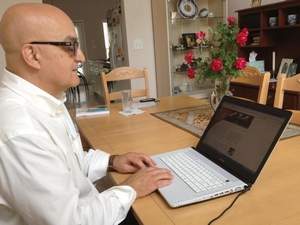 Sabet is among a fleet of volunteer scholars worldwide helping a semiunderground university, the Baha'i Institute for Higher Education — now at the heart of an international human-rights campaign.
The students are barred from Iranian universities, many jobs and other basic rights because they belong to the Baha'i faith, the largest non-Muslim minority in Iran and one that has come under fierce persecution since the 1979 Islamic revolution.
Sabet, 58, a Baha'i who came to the United States as a student in 1979 just before the revolution, speaks in soft yet passionate tones about students barely out of their teens navigating a rigorous curriculum in harrowing circumstances.
"This is their only source for becoming somebody," Sabet said. "They are really taking it seriously."
Persecuted minority
The Iranian government considers the Baha'i faith, with about 300,000 adherents in Iran and about 5 million worldwide, to be a dangerous cult in part because it recognizes a messenger of divine revelation who lived after Muhammad, whom Muslims consider the final prophet. Iran has alternated between ignoring the Baha'i Institute and intimidating those involved in it, according to human-rights groups.
In May 2011, dozens of homes associated with the institute were raided by government agents. Six professors and other organizers of the institute are serving multiyear prison sentences as a result.
The U.S. State Department, the U.S. Commission on International Religious Freedom and the group Human Rights Watch also have denounced the raids and arrests as well as other repression of Iranian Baha'is.
Nobel laureates Desmond Tutu and Jose Ramos-Horta co-signed a letter calling for the release of the prisoners, academic freedom in Iran and recognition by Western universities of the Baha'i Institute graduates' academic credits. Graduates have gone on to study at dozens of foreign universities, including Indiana University and the University of Kentucky.
A new documentary, "Education Under Fire" — produced by Florida-based Single Arrow Productions and co-sponsored by Amnesty International — has sought to raise awareness of the issue. The film was screened at the University of Louisville in April and is scheduled to be shown today at the Louisville Free Public Library's Iroquois branch.
A rigorous curriculum
The Baha'i Institute teaches undergraduate and graduate courses in fields ranging from music to accounting to education to engineering.
Sabet emphasizes that the institute does not get involved in political controversies in Iran, and the only teaching about religion comes when it uses Baha'i, Islamic, Christian and other sacred texts as part of a larger Great Books course, along with works by the likes of William Faulkner, Fyodor Dostoevsky and Persian writers.
"We teach Darwin," Sabet added. "It's not in any sense a seminary."
But the persecution stems not so much from the content as the result, said Nancy Harris, a member of the local Baha'i community, with about 225 adherents in Kentuckiana.
"Without education," she said, "people don't have power."
Iran's constitution declares the nation an Islamic state, and it is ruled by Shia clerics. The constitution grants limited protections for the historic religions of Christianity, Judaism and Zoroastrianism — although such groups and minority Muslim sects also have faced persecution, according to the U.S. Commission on International Freedom.
Baha'is, whose faith was founded by the Persian Baha'u'llah in the 19th century and persecuted periodically ever since, have come under particularly fierce oppression since the Islamic revolution.
At least 200 Baha'i leaders have been executed since 1979, and many more have been imprisoned or lost jobs.
A 'near-miraculous' achievement
Mina Yazdani — now a history professor at Eastern Kentucky University in Richmond — was in the first wave of Iranian Baha'i students to face repression after the revolution.
Yazdani was expelled from a university in Shiraz, Iran, in 1981 after finishing more than half of a seven-year medical studies program.
At first, Yazdani said she felt guilty for feeling sad about her situation.
"People around us, other Baha'is, were being arrested, were being persecuted, so who has time to think about a young man or woman who has been dismissed at university?" Yazdani recalled.
But in the long run, she said, Baha'is realized the enormity of the ban on higher education.
"What are you going to do with a community that has no graduates from universities, no specialists in any field?" she said.
The Baha'i institute was founded in 1987. At first, students took correspondence courses that required laborious waits for mail or courier. Now they use state-of-the-art Internet software for distance learning.
Sabet, 58, who also works as a faculty member and doctoral adviser for the online Capella University, came to the United States in 1979 just before the Islamic revolution.
About 2,000 students have completed undergraduate or graduate-level courses from the institute, including about 200 who have gone on to study in North America, according to Sabet, who moved to Louisville in 2003.
"The institute's educational successes strike me as near-miraculous," wrote Sohrab Ahmari, an Iranian-American journalist, in a May 13 article for the Chronicle of Higher Education.
From expulsion to professorship
Some of the coursework is in English, preparing students for work or study abroad or work with international colleagues. Some students have left Iran, but many want to stay and help build their country, Sabet said.
The university "exemplifies a constructive response to oppression," Sabet said. "Instead of resorting to conflict or tension or violence, they started a university. I have a feeling this institution will play a greater role in the reconstruction of Iran."
The Bahai Institute uses encrypted software and other controls, but as last year's raid and a similar one in 1998 showed, the Iranian government can penetrate the school when it chooses.
"It's not risk free, but you know, most of these students and faculty in Iran have reached a point where you have taken everything from us, this is the last thing we have, so what?" Sabet said. "Is it a problem that we are studying epistemology?"
Before the institute arose, Yazdani was able to earn a bachelor's in general studies from Indiana University through a correspondence course while she was in Iran. IU provided similar opportunities to several other Baha'is in the 1980s.
Yazdani left Iran in 2004 on a student visa to study in Canada, where she earned master's and doctoral degrees. She was appointed to EKU's faculty in 2011.
She said her expulsion from school in Iran, while painful, ended up strengthening her faith.
"Before, being Baha'i was just part of my life," she said. "After, it became all of my life."
—
Source: http://www.courier-journal.com/article/20120518/NEWS01/305180125/Iranian-minority-gets-local-help-Louisvillian-among-those-educating-persecuted-members-Baha-faith?odyssey=nav%7Chead