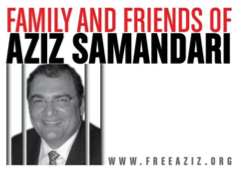 PRESS RELEASE
Aziz Samandari jailed in Iran for 5 years –
Accused of protecting Baha'i students' right to higher education
Geneva and New Delhi, 17 July 2012 – Aziz Samandari, a 40 year-old Baha'i IT specialist, was arrested on 7 July 2012 in his home in Tehran and is now incarcerated in the sadly notorious Evin prison. The Islamic Revolutionary Court Branch 28 had condemned him to a five-year prison sentence in October 2011 after a 10 minute kangaroo trial, where the only question asked to the accused was whether he belonged to the Baha'i community. The verdict was confirmed by the Court of Appeal of Tehran in February 2012. The very short judgment – which was only read out but not handed over – speaks about the "active membership" of Aziz Samandari "in the misguided Baha'i sect" and his association with the Baha'i Institute for Higher Education. The entire legal process was a mockery of justice violating all aspects of the basic right to a fair trial guaranteed by international treaties ratified by Iran.

With 300,000 followers, the Baha'i community of Iran represents the largest religious minority in the country. Yet, Baha'is have been deliberately omitted from the list of the three religious minorities recognised in the Constitution. They are classified as "unprotected infidels", and have faced intense persecution since the Islamic Revolution in 1979. Despite the fact that Baha'is do not get involved in partisan politics, are deeply committed to the development of their country and are a peace-loving community, they continue to be persecuted because of religious hatred.
According to Kazem Samandari, the uncle of Aziz: "History repeats itself in a cruel manner. Aziz is being jailed arbitrarily in Evin exactly twenty years after his own father, Bahman Samandari – my brother – was summarily hanged for his religious beliefs in the same prison on 18 March 1992. The body of my brother was never returned to our family. We only received a hand written note from him saying he refused to recant his Faith."
One of the methods used by the government to ensure the "slow strangulation" of the Iranian Baha'i community has been a systematic policy to deny young Baha'is access to higher education since 1979. In response, the Baha'i community launched in 1987 its own higher education programme – known as the Baha'i Institute for Higher Education (BIHE) – to meet the educational needs of young people barred by the government from attending university. Now, the Iranian authorities are also seeking to shut down this initiative. At the time of the latest raids on its staff and resources, BIHE was offering 17 university-level programmes.
Bahman Samandari was one of the founders of BIHE, for which he paid with his life. Now it is the turn of Aziz – along with many other Baha'is arrested in connection with their association with BIHE – to pay a heavy price for seeking to protect the right to higher education of the Baha'i youth in Iran.
For Maryam Nicollier, aunt of Aziz and sister of Bahman: "Beyond their religious belief, my brother and my nephew shared another strong conviction: they felt a compelling sense of responsibility to help the young members of the Baha'i community, unjustly barred from accessing higher education in Iran. How can a government in this day and age continue to prevent an entire religious community from attending university?"
Relatives and friends of Aziz Samandari in Australia, Belgium, Canada, France, Germany, India, Iran, Switzerland, United-Kingdom and the United-States call for the immediate release of Aziz as well as the more than 100 other Baha'is unjustly imprisoned in Iran in violation of their right to freedom of conscience and religion.
For Caroline Samandari, cousin of Aziz and human rights lawyer: "Aziz and his wife could have escaped Iran and lived a comfortable life abroad. Instead, they chose to stay in Iran out of solidarity for the other members of the Baha'i community. The best way to show our solidarity to Aziz is by joining hands with all those who are fighting across the globe for the right of every young boy and girl in Iran to have equitable access to higher education."
 For more information on Aziz Samandari, contact: Kazem Samandari (France) at:
+33 680343784, Patrick Nicollier (Switzerland) at: +41 79 6578810, or Maryam Nicollier (Switzerland) at: +41 79 4160343
 For more information on Iran's campaign to deny higher education to Baha'is, visit: news.bahai.org/human-rights/iran/education
 For more information on the Baha'i Faith, visit: www.bahai.org
—
Source: Patrick Nicollier (Switzerland) at: +41 79 6578810