[birangi.com]

One of Khamenei's latest religious judicial decrees (fatwas) expresses his view about Baha'is. The leader of the Islamic Republic has said [in his fatwa] that interaction with Baha'is is unlawful, and any interaction with "the deviant cult" (i.e., the Baha'i community) must be avoided.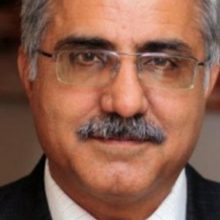 Harana News: Ataollah Rezvani, a Baha'i citizen and a resident of Bandar Abbas, was murdered by a gunshot.
According to Harana News, the news organization of human rights activists in Iran, the life of this Baha'i citizen, a resident of Bandar Abbas, had been repeatedly threatened by agents of the Iranian Ministry of Intelligence and the office of the Imam Jomeh, the top clergyman in the town. Last night, Saturday, Shahriver 2nd (Aug 24), he was murdered, but none of his belongings were stolen.
A source who wished to remain unknown told the Harana reporter: "Fanatical Muslims had already stabbed to death another Baha'i named Iraj Mehdinejad in our town. Also, two other Baha'is, Meead Afshar and Iraj Maydani, were seriously wounded in attacks of fanatics."
Then the source mentioned Ataollah Rezvani's activities: "He had participated in a number of charitable activities. He used to organize his activities through an administrative group, called the Khademin (Servants) of the local Baha'i community." As for the murder, the source said: "As far as I know, he was abducted and then shot in the head from behind."
Another source who wished to remain unknown told the Harana reporter: "Ataollah Rezvani had been invited to Dr. Iraj Maydani's home on Saturday night. The police have told Ataollah Rezvani's family that the murderers had been lurking in his car on his way back home. They had probably taken him by force and threatened him with a gun on Rah-'Ahan Road, and then shot him in the head from behind. Passing cars found the body and called the police. Nothing was stolen from the car."
It is worth to mention that in 1359 (1981), following the Iranian Revolution, Ataollah Rezvani, a mechanical engineering student at the time, was expelled from university.
—
Translation by Iran Press Watch,
Source: http://www.birangi.com/Topic/1901