Source: www.hra-news.org
Translation by Iran Press Watch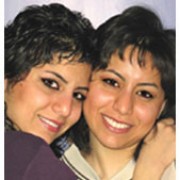 Harana News Agency – On the Sunday morning of March 30th 2014, intelligence officers arrested two Baha'i residents of Mashhad by the names of  Nava Kholousi  and  Nika Kholousi.
According to reports from Harana, the news agency of Human Rights Activists in Iran, on Sunday morning, March 30th 2014, some officers from the ministry of intelligence went to Nava Kholousi's residence in Mashhad and arrested her. On the same day, intelligence officers arrested her sister Nika Kholousi, who along with their parents were staying in Babolsar during the Nawruz (Persian New Year) vacation.
The Mashhad Revolutionary Court has sentenced them to imprisonment based on charges of propaganda against the regime and membership in Baha'i organizations; Nika Kholousi has been sentenced to six years in prison and Nava Kholousi to four and half years in prison.