[HRANA]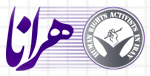 Wednesday, 23 April, 2014
HRANA News – A court in Yazd issued prison sentences of a sum total of 58 years for 20 Baha'is.
Based on information from reporters at HRANA, the news organization of Human Rights Activists of Iran, on 1st August, 2011, Agents of Ministry of Intelligence attacked the homes of multiple Baha'i residents in the cities of Yazd, Isfahan, Kerman, and Arak, and detained 17 people.
After two weeks, 3 other Baha'is from the city of Yazd were detained.
All of the detained were released after approximately one month, after paying bail of one billion, two hundred million tumans [at the time, approx US$11,400].
After one year these individuals were sentenced by Branch 1 of the Revolutionary Court of Yazd, and these 20 Baha'i residents were then sentenced to a sum total of 58 years in prison, 38 of these years as a mandatory term.
The above sentence was confirmed by the Appeals Branch on 16 April of the current year (2014).
The names of these 20 Baha'i residents and their sentence terms is as follows:
Saba Golshan (Isfahan): 4 years in prison and one year probation; Shahram Ishraghi, Engineer Khosro Dehghani (Isfahan), Shahram Fallah (Kerman), Navid Haghighi (Yasuj), Iman Rashidi (Yazd): 3 years in prison and one year probation; Fariborz Baghi, Natgheh Naimi, Shabnam Motahed, Fariba Ashtari (Yazd), Naghmeh Farabi (Isfahan): 2 years in prison and one year probation; Farah Baghi, Mehran Islami, Azam Motahari, Farahnaz Misaghian (Yazd), Sohrab  Naghipour, Azar Purkhorsand, Sasan Haghiri, Tahereh Ruhani, Vida Haghighi (Isfahan): 1 year in prison, and 1-year probation.
Note: In the above report, the mandatory prison sentences were calculated both as  probational terms as well as separately, but this was corrected to reflect the sentence terms for these residents as a sum total of fifty-eight years.
—
Translation by IPW
Source: http://tinyurl.com/lk7rrp3