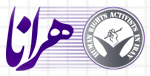 HRANA – Nasim Bagheri, a professor at the online Bahai university (BIHE), was arrested this morning by agents of the ministry of intelligence.

According to reporters at HRANA, the news organization of Human Rights Activists in Iran, around 7:00 PM on Saturday April 27, four agents of the Ministry of Intelligence went to the house of Nasim Bagheri, a Baha'i resident of Tehran, with a search and an arrest warrant, and arrested her in order to carrying out the court's sentence against her.
Nasim Bagheri was previously sentenced to 4 years in prison by the revolutionary court of Tehran* under the charges of propaganda against the regime and acting against national security by membership in an illegal institution. By illegal institution, the court is referring to the online Bahai university that provides instruction and education to Bahai students who have been deprived of higher education.
* For an article on this, see sensday.wordpress.com/2013/10/24/nasim-baqeri-sentenced-to-4-years-in-prison/
_____
Translation by Iran Press Watch
Source: http://tinyurl.com/n25ed45