7/7/77! (This Persian date is equal to Sept 28, 1998)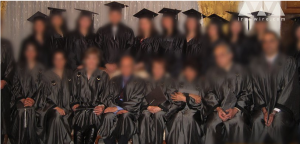 In many countries and cultures, seven is a lucky number; but for the Baha'is of Iran it does not represent luck – rather, it stands for hard times.  On that day, agents of the government of Iran raided the home-based classes of many Baha'is and destroyed all their equipment and study material.
On that gloomy day, many of the teachers and students of BIHE – the Baha'i Institute for Higher Education – were detained, tortured and imprisoned.
The history of BIHE goes back to 1984, when it became certain to Baha'is that their children would be barred from higher education in Iran. As a result, they decided to establish a university under the supervision of educated members of their community.
In recent years, many Baha'is in Iran have been inmates at the notorious Evin Prison – guilty of teaching at BIHE. Kamran Rahimian, Keyvan Rahimian and Faran Hesami are members of a family who have been imprisoned for teaching in this virtual university. The arrests are ongoing.
Just a few days ago, law enforcement agents invaded the home of Ms. Nasim Bagheri and detained her for teaching at BIHE. "Baha'is had rented an office in the western part of Tehran for BIHE students to conduct tutorial sessions three times a semester", Farhad, now a graduate of this university, recalls the events on that day of 7/7/77. "On that day, we were reviewing our statistics course when the authorities raided the place, disrupted the class, tore up the textbooks, confiscated equipment, and arrested the teachers and the owner of the office."
Farhad, who went to Canada to continue his education after receiving his B.S. in accounting from BIHE, added: "Canadian universities were among the first to recognize and accept BIHE credentials. This was mainly due to the fact that the first group of students from that institute, who pursued further education in Canada, helped Canadians recognize and gauge the level of education at BIHE. This group of Baha'i students opened up opportunities for the rest of the students who followed them later." He went back to Iran to join the team of instructors at BIHE after receiving his Masters degree from the University of Ottawa in Canada. "We believe that only we can help each other. That's why those who have the chance to finish their education abroad go back to share their learning with other students."
According to Farhad, there are three types of BIHE instructors; first, those Baha'i instructors who had been teaching in Iranian universities prior to the Islamic Revolution, and who lost their jobs due to their beliefs; second, BIHE students who either graduated or pursued and finished their education abroad and now have come back to serve; and third, non-Baha'i Iranian university instructors who teach under a fictitious name. The identities of those in the third group remain anonymous for their own safety and protection, and no one besides the board of directors of the institute knows who they are.
Loss of Employment
On their return to Iran, some of the BIHE students who have obtained their Ph.D. or Master's degree in Canadian institutions were offered jobs in government-supported companies and institutes. Mehrdad was one of them, who for a short period of time obtained an engineering position in a government project. "I was offered this position as a result of having my Master's degree in engineering from Canada. But soon, a governmental memorandum was circulated asking everyone with Ph.D. and Master's degrees from Canada to present their Bachelor's degree credentials as well. Upon asking me, I declared that I had received mine from BIHE." He was instantly fired from his job.
Losing jobs was not the only consequence of admitting being a Baha'i. Many Baha'i students were either expelled or barred from higher education institutions in past years in Iran. This discrimination persists, though authorities continue to deny it.
In 2011, Anisa was admitted to the International University of Qazvin as an English Translation major. While filling out the admission form, she marked "Other" for religious affiliation, since the other choices where "Muslim", "Christian", "Jew" and "Zoroastrian". "I was in my third semester there when I was contacted by university authorities asking me to clarify what my religious belief was. When I declared that I was a Baha'i, I was asked to report to the Office of Security of the university," she said.
Upon arrival at the office the next day, Anisa was offered two choices:"I was handed two forms, one of which I had to choose. On the first form, I was given the option to state that I obey the laws and regulations of the university and deny my religious beliefs. On the second form I was asked to sign that I strictly obeyed the Universal House of Justice, the elected supreme body of the Baha'i Faith. They were most insistent to have me sign the second form. When I refused to sign either of the forms, I was expelled on the spot. Interestingly enough, upon leaving the building I noticed that my student ID was instantly invalid; I could no longer go to the cafeteria or the dormitory on campus."
Anisa continues her education at BIHE now. "It is extremely difficult to communicate with BIHE instructors and administrators. We have to exercise extra caution in using our email and phone calls for safety reasons." She said, and then paused for a moment and added:"We just want to study, but we are forced to do it underground."
Kambiz is one of the Baha'is who volunteers to help B.I.H.E. "When we learned that phone calls were tapped, we reached students in person to inform them of the location of classes. When we felt that the Post Office of the Islamic Republic was no longer reliable, we personally hand-delivered study materials and exams to our students in different parts of Iran." he said."On that day of 7/7/77, we had to relocate the texts, handbooks and exam sheets five times in order to save them from the raid" he recalled.
The Thrill of Attending Classes in Person
Sara Mazloomi is a graduate student at the University of Houston, Texas, pursuing her MBA degree. She received her Bachelor's degree in Structural Engineering from BIHE. "My sister was admitted to the Medical School of the University of Mashhad in Iran. She was expelled from the University due to being a Baha'i, after four years. After this incident, I decided not to even apply to any universities or colleges. I only took the entrance exam of BIHE" she said.
After finishing high school, Baha'i students in Iran choose their preferred majors and take part in a nationwide standardized entrance exam. "Our admission to BIHE was based on our performance in this exam, final grades from our last high school year, and the priority of the majors we chose." she continued. She recalled that during her time, most lectures and tutorial sessions were conducted at homes of Baha'is. "For safety reasons, a different home was available each time for this purpose." Alluding to the hardship she had to go through, she said:"As a Structural Engineer, I had to take a course in Fluid Mechanics. This was a hard course; at a regular university, it takes two to three sessions a week for a semester to cover it. We only could have a maximum of three sessions to study in person. I remember that I was spending 8-9 hours at home to study a small portion of it on my own before moving on to the next section." She finished by excitedly saying:"When I was admitted to the University of Houston and realized that I could attend regular classes, I was so thrilled I could not sleep the night before!"
—
Translation by Iran Press Watch
Source : http://iranwire.com/features/5874/