Source: sahamnews.org
Translation by Iran Press Watch
Published on Wednesday, 26 Nov 2014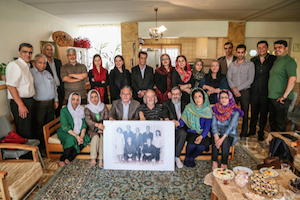 During the last few months, economic and social pressure, along with widespread arrests and imprisonment of members of the Baha'i community, have increased. This is but the latest indication that since its establishment the Islamic Republic has continuously worked to completely eliminate the Baha'i Community.
According to Saham News, there are currently more than 130 Baha'is, both women and men, serving sentences in different prisons throughout the Islamic Republic. These sentences vary from one to twenty years. The lengthiest prison terms belong to the seven members who were previously managing the affairs of the Baha'i community – each one is sentenced to twenty years imprisonment. In recent months, tactics to apply economic pressure, such as closing Baha'i-owned shops and seizing the assets of some merchants, have been frequently used – they are particularly widespread in the cities of Semnan, Hamadan and Bandar-Abbas. Social pressure is also rampant. Baha'i youth are denied the opportunity to continue their education in university, and their last lifeline, the underground Baha'i Institute for Higher Education (BIHE), has been cut.
More than thirty Baha'i youth successfully passed the University Entrance Exam this year, but due to obstacles in their admission process created by the authorities, they could not continue their studies; like their fellow believers, they had no option but to continue studying through BIHE.
Looking into the pattern of the behaviour of the authorities in the Islamic Republic since its inception reveals that three parallel lines of action have been implemented: economic, social and safety/security, in order to progressively wipe out the Baha'i community.
Through economic sanctions, it is estimated that in today's value, the Islamic Republic has confiscated more than 1000 billion dollars worth of assets – both those owned by the Baha'i community and private individuals – throughout the vast expanse of Iran. The most important and valuable assets have come from Tehran, Semnan, Yazd, Esfahan and Mazandaran. This includes the 17 million square meter Mahalati complex, which is currently owned by Sepah Pasdaran, the "Haziratul Quds" complex [National Baha'i Center], currently used as an Art Centre at the Hafiz-Taleghani junction in Tehran, and Baha'i centres in 22 provinces of the country. All of these properties officially belong to Baha'is. Also seized were properties in the northern section of Sepah Ave which belonged to the Azizi family. The Azizi Plaza, reminiscent of the old days in Tehran, still stands erect in their memory. A factory which used to produce household items and appliances, which belonged to the Arjomandi family, was confiscated, as well as the assets and wealth of Hozhabr-i-Yazdani who had the largest animal husbandry business in the Middle East, producing meat and leather. These are only a small portion of the public and private assets of the Baha'is which have been confiscated by local and national authorities of the Islamic Republic. It is also worth mentioning that within the last 35 years, in order to weaken the Baha'i community in a few villages around Tabriz, Sarry and Yasooj in Kohgooloye, and Boyer Ahmad, all Baha'is were banished from these villages and their assets were seized.
Due to these persecutions and forced relocations many Baha'is have had to abandon their assets and houses and move to other cities or other countries altogether. The abandoned properties are then seized under the pretext of not having rightful owners. Although many Baha'is have their ownership documents, they are unable to recover their properties. In many cases the properties have been sold to others, and new owners occupy them, while the initial owners have been forced under dire economic hardship to move to other cities like Tehran and Isfahan.
Under the action line of safety and security the community has been under varying degrees of pressure during different periods of time over the last 35 years. In the first ten years since the Revolution 225 Baha'i's were executed, and hundreds spent their life in various prisons, in particular Rajai Shahr and Evin. The government arrested and executed every member of two different nine member national administrations (National Spiritual Assemblies) and still there is no news about them.
At the time of the Revolution there were six hundred thousand Baha'i community members, but despite the population growth of the country the Baha'i community has declined in numbers; currently the best estimate indicates that there are around four hundred thousand. Many of them have been scattered to different parts of the world.
In the area of social pressure, Baha'is have had both their education and their work opportunities limited, and have been expelled from government positions. It seems that disabling the economic capacity of the community has been bearing fruit.
Many Baha'i families are in prison together. In one case a grandfather, father and grandson have been incarcerated together. These days, imprisonment of parents along with their children is a common occurrence.
Studies indicate that 135 members of this community are still spending a collective one thousand years of their sentences together in prison.