Source: www.roozonline.com
November 26, 2014
Translation by Iran Press Watch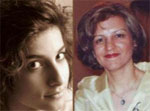 The story of many years of prison visits, by Fariba Kamalabadi's daughter
By Fereshteh Ghazi

She was thirteen years old when her mother was imprisoned; for more than five years, she has only seen her mother in the meeting halls of Evin, Rajai Shahr and Varamin's Gharchak prisons. She is now 18 years old; by the time her mother's 20-year prison term is over, she will be a 33-year-old woman. Taraneh Taefi is the daughter of Fariba Kamalabadi, one of the 7 members of the Yaran ― the Baha'i ad hoc leadership committee in Iran ― who has been sentenced to a 20-year prison term.
When her mother was arrested on May 14, 2008, she was a 13 year-old teenager in seventh grade. She is now an 18 year old young woman who has been deprived of a university education, who talks to me about her mother, her rights as a prisoner of conscience, being deprived of her presence for the past five and half years and for another 15 years to come. She talks to me about the possibility of her mother never returning, about prison meeting halls, the deprivations and the disappointments, and yet she is hopeful.
"When I was trying to prepare you for my arrest in 2008, I asked you if you would be upset if I were arrested. You replied: 'I was very young when they arrested you in 2005 and didn't understand what was happening to you, so I merely missed you. But this time, I both miss you and feel sorry for you.'" This is an excerpt from a letter Fariba Kamalabadi has written to her daughter from Evin prison. Taraneh Taefi says: I was very young the first time my mother was arrested, and didn't realize she was in a very difficult situation. I was mostly sad because my mom wasn't there, and I missed her. I didn't realize that she was in solitary confinement, was going through tough interrogations, had worries and was completely isolated from the outside world. However, as I grew older I thought about these things in addition to missing her. I remember the second time she was arrested, she was on a trip to Mashhad. We didn't know exactly how and where she was arrested. For about a month, we didn't even know where she was. Of course, I was very young then and was not concerned about not knowing her whereabouts or how she was arrested, etc. As I grew older, I became both sad and worried, and that was why I said I was sorry for her, as I had just realized that I was not only missing her, but was also concerned about her condition and how she was being treated in prison.
I was 10 years old when I first experienced my mom's imprisonment. Of course, the prison terms were much shorter, once for a month and another time for two months. When I was thirteen, it was the third time she was arrested. Naturally, one family member was not among us anymore, and we were concerned as to how long this condition would last. In the beginning, I was very worried that she might never come back. Of course, I was a young teenager then, and it was very tough for me. After a while, you get used to it, even though you often miss her and feel her absence.
What do you mean when you say: "I was worried she might never come back"? Were you afraid of her being given a death penalty due to the serious charges?
Yes. I remember the day they delivered the verdict ― very well. My father told me they had given her a 20-year prison term. I thought he was joking! Even though I had thought of even bigger sentences, I did not believe it. Down inside I never thought they would give her such a long prison term. Twenty years is too long ― it is a lifetime! It began when I was 13 and will end when I am 33 years old! However, despite the severe hardship you get used to it. I prefer not to have high hopes for an earlier release or any change in the remaining 15 years, because all the comfort other hopes have given me has been proven to be false. I will be much more comfortable if I can accept not having her around for another 15 years. Rather than hoping and not seeing it happen, I would prefer to be surprised by her early release.
How are the visits with your mother?
They allow the children of prisoners to meet their parents in person once a week. However, because I am older those meetings are only every other week. That means we meet in person one week and the following week we meet through a visitor's booth. There is a series of chairs in the visiting hall. Of course, this hall used to be much more crowded in previous years and there were not enough seats for everyone, but it is less crowded now. There are usually many children playing. We wait in this hall and go upstairs for our visits after they call our names. One of the children I always see there is Faran Hessami's son, Artin, whose mother is in Evin, and whose father is in Rajai Shahr. The children stop playing and run to see their mothers as soon as they hear their names. As our visits come to a close, we try to talk really fast ― as we have many unsaid words ― and lower our heads to have a final glimpse of our loved ones as the booth's shades are drawn. There is one booth that has no shades. When both visitors and the prisoners are there, we speak using hand gestures and pantomime. When the visit ends, we leave and have no news of them until the following week. When my mom was at Rajai Shahr prison ― despite the bad sanitary conditions and the type of prisoners she had to be with ― she had the advantage of making phone calls every day, and that made us very happy, because we could talk about everything on the phone. Now, however, we have no news of her between visits, because prisonaers are not allowed to make phone calls, and that worries and bothers us very much. In-person visits are in a large hall with several tables and seats around them. Each family sits at a table and speaks with their loved one. We are not allowed to bring anything into prison, but sometimes the prisoners bring food and we have lunch together. I am very happy when we have in-person meetings, because I can hug my mom, sit next to her, eat and speak with her. Conditions are much better during these visits.
And your mom hasn't had any temporary leaves yet, right?
Not at all. Some people say if a prisoner has served one sixth of her term she is supposed to be able to have a temporary leave. Others say, leaves are allowed after one third of the sentence has passed. I don't know if any of these stories are true. Every time we have requested a leave, they have not followed the rules and have said: you are part of the "Group of 7" and we have no plans to give you any leaves. We will do it when we see fit, and your repeated requests are useless.
So there are no leaves, no phone calls and you only have weekly visits. How do you keep your relationship with your mother going?
We talk to each other a lot. However, I always envy other children who have their mothers with them to talk to, while I am deprived of that. During the week, I think of many things I wish to tell her, but when we go for our visits and the visit is over, I remember all the things I forgot to tell her and I am never sure if I can tell her those thing the following week. It is very tough, but we try to cope. There are so many things I have never told anyone. Sometimes when I am at home and the doorbell rings, my heart skips a beat thinking, could they have freed my mom or given her a temporary leave? And sometimes when I enter the house, I feel like my mom may be there when I arrive. And of course, she is not there. So, these issues exist; while I am not completely hopeless, I have these images in my mind. I have one older brother and one older sister. They are both married, and my brother had left Iran before my mom was arrested. This distance has caused them not to be able to have any contact with my mom, because she is not allowed to make phone calls. She was allowed to make phone calls once a month before, but lost that privilege a year ago. My sister had a baby a few days ago, but they didn't let my mother call to speak with her. We even had a hard time giving her the news of the new baby's arrival.
The student activist, Bahareh Hedayat, who has been imprisoned in Evin for nearly five years, referred to Fariba Kamalabadi in a letter to her husband, Amin Ahmadian, and wrote: "I never forget the first time Fariba decided to take a pot of tea to an in-person visit with her daughter, Taraneh. I noticed that she first put a sugar cube in the container, thought a bit… took the sugar cube, put a piece of chocolate instead, thought again and took that and replaced it with a date! I asked: what are you doing? She said: I don't remember if Taraneh takes her tea with a sugar cube or something else… Finally, she took all three! I ignored this while she was there, but later I could not stop my tears… Imagine, this girl was 12 when they took her mother away ― she is now 17… Fariba is a mother but she has forgotten all the details of motherhood. They removed them from her mind through their cruelty and injustice!"
Taraneh Taefi says: I remember crying hard when I read this, because I remember her telling me during that particular visit that she had forgotten what I took my tea with. She had brought all three items, and said she didn't remember. I became sad then, but not emotional. When I read Bahar's letter, I became very sad and cried. Many people assume that being in prison means you are just denied your daily life and are confined to a cell. But there are so many deprivations that most people don't know about. Many regrets and disappointments are buried between those walls! For example, my mother's first grandchild was born and she was not aware of it, she could not witness it and wasn't even allowed to make a phone call to find out if the baby had been born. These things may sound simple, but they are truly hurtful, both for my mom and for us. However, I believe we should pay more attention to the prisoners than to their families. We have lost one person, but they have lost an entire society. Despite all the hardships and deprivations, we are part of society, but our prisoners are surrounded by walls and away from society. They have left everything behind the walls. Of course, in certain ways prison has become a university for them. Many prisoners read books together. My mom reads books and knits. She always says: I knitted something for you or for such and such a family member… and this is how she keeps her connection with her family and relatives. We can see in our visits and also hear from those who have been in the same ward with her, that she is in good spirits. It is not as if she has lost hope or is too sad after five and half years of imprisonment. She lives her normal life and is psychologically healthy. Once in a while there are physical ailments, but there are no specific issues at this time.
In a letter to her newborn grandchild, Fariba Kamalabadi writes: "We were a seven member group, named "Yaran-e-Iran" who managed the affairs of Iran's Baha'i community. We addressed their personal issues according to the teachings of the Baha'i Faith and protected them in the face of many brutalities inflicted upon them. If they were fired from their jobs and were unable to secure their daily expenses, we taught them ― with the assistance of other Baha'is ― careers, and provided ways for them to earn a living. If they were sick and could not afford the cost of treatment, we helped them with assistance from Baha'i physicians. We facilitated the training and moral education of Baha'i children and youth, and with help from Baha'i university professors who had been fired from their posts, we provided opportunities for thousands of Baha'i students – including your parents – to get higher education in the homes of Baha'is, and… All the efforts of this group were meant to thwart the activities that were focused on the "intellectual genocide" of Baha'i youth, using constructive measures. And these actions were carried out in such a way that today there is no hatred or animosity toward the government,  toward Islam or the Islamic Government in the heart of even one Baha'i, and individual Baha'is worship Iran, sanctify Islam as a holy religion, and their hearts' desire is to serve Iran and the Iranian people, even though some Baha'i youth have been sentenced to many years in prison, mainly because they were serving children in underserved areas." 
Her daughter says: My mother and six other individuals, each of whom have 20 year prison sentences like her, were members of a committee that handled the affairs of the Baha'i community of Iran. These included issues like arranging funerals or planning for marriage ceremonies according to Baha'i religious laws and other similar issues. At any rate, since this committee was in touch with all the Baha'is in Iran, I believe the government wanted to arrest these so-called Baha'i leaders in order to scare the others. Of course my mom says it will not last 20 years, but these are the current conditions, and I have accepted and am used to them. To avoid disappointment, I have not developed any false hopes. Enduring these 20 years also becomes much easier for me because I know there is strong belief and faith behind it. I accept many more hardships due to this belief. It makes the whole situation much more tolerable.
Taraneh Taefi has also been deprived of higher education: When I took the national college entrance exam, received my ranking and selected a major online, instead of receiving the name of the university I was admitted to, I was faced with a message that said "Incomplete File". Since the beginning of the Cultural Revolution no Baha'i has been allowed to get a university education: that is, on the application forms there were a list of religions to select, and the Baha'i Faith was not included in that list. This lasted till 2003-04. That year, they removed the specific names of religions from the application forms and individuals could actually write down their religions. So, Baha'is also put down their religion and took the exam. However, when they received their exam ID cards, under religion they had put down: Islam. When the Baha'i students contacted the officials they told them "this refers to the type of religious examination you are going to take". So, we accepted that. However, after taking the exam they prevented us from entering universities again. They dismiss different students at various stages. Some are dismissed at the time of receiving their ID cards, others when they are selecting their majors or during registration. Some students even studied for eight semesters and were eventually dismissed before getting their degrees. This was the situation. However, with the election of Mr. Rohani there was great hope for better conditions. However, in fact everything got even worse. In previous years, they did not eliminate such a large percentage of the students right at the beginning. This year, though, they sent messages of "Severely Incomplete File" to 80 or 90 percent of Baha'i students after they had selected their majors. This happened despite the fact that the entire process of filing applications, etc. is done online and "Incomplete File" is meaningless. Even those who were admitted were prevented from attending classes after a few weeks.
My dear girl, I apologize to you on behalf of all those who are ignorant and have created such hardship for you Baha'is with their ignorance. I used to think your hardship was merely an unreasonable and unfair deprivation from education. However, I realize now that you are afflicted with additional suffering. Next time, when you go to visit your mother, tell her: "The 81 year old Dr. Mohammad Maleki, the first chancellor of Tehran University ,came to our home and bowed his head with humility in the face of our innocence and that of our fellow Bahai's." These are the words of Dr. Mohammad Maleki to Taraneh Taefi when he visited her and her family*, accompanied by the author and documentary maker, Mohammad Noorizad.
I didn't know Mr. Maleki was coming. Mr. Noorizad had mentioned he was coming with one of his friends, and had emphasized that I should be home. I didn't know why and didn't think this was about me. I had seen Mr. Maleki before when he was in prison and we went to visit my mom. I had seen him in the visiting hall, but did not know who he was. When they arrived, Mr. Noorizad said: "the first chancellor of Tehran University wants to speak with you because you have been deprived of a university education." It was a wonderful feeling to know they cared so much, and that such an important person had come to meet with me and to give me encouragement. I had been very sad about being deprived, and their visit gave me joy and was exhilarating. He told me that he would not hesitate to provide support in any way he can.
After this year's June elections and the start of Hassan Rohani's presidency, there were renewed hopes regarding the freedom of prisoners of conscience and the creation of more personal freedoms. Some political prisoners were freed. However:
Of course, there was hope for a change in conditions. We are still hopeful that these conditions will change. However, we have witnessed other political prisoners who have been granted temporary leaves, allowed to extend their leaves or even been altogether freed. However, in case of Baha'i prisoners there has been absolutely no increase or leniency, even for temporary leaves. There have been Baha'is who have been imprisoned since Rohani came to power. There has been no easing of the conditions of the prisoners, individual Baha'is keep getting arrested in various cities and no change for the better has occurred.