Source: www.tribunezamaneh.com
Translation by Iran Press Watch
Parisa Sabet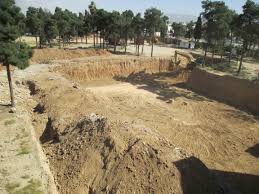 I don't quite recollect "Golestan Javeed," the old Baha'i cemetery of Shiraz, which has been recently razed to the ground.  I only know that my paternal grandfather, as well as many other Baha'is martyred between 1981 and 1983, have been buried there.
The stories I have heard about my grandfather sound more like myths. My aunt—his daughter—told me that he had an herbal medicine store in Marvdasht[1] and that the local people believed very much in the efficacy of his remedies and treatments.  Some would even say that he had healing power.  One night, my aunt recalled, people came to their door bringing a person whose foot was injured in an accident.  My grandmother and aunt insisted that the injured person should have been immediately taken to the hospital, but those who were with him, believing in my grandfather's healing power, refused to take him from the house.  My aunt told me that my grandfather, who was fearless, asked my aunt and grandmother to pray; then he started to treat the injured foot by opening the wound with a knife.
My grandfather's children have managed to keep my grandfather's treatment notes and herbal medicines safe, retrieving them just before his store was sealed after the revolution.   A few years ago, when I had a minor fracture in my finger, my dad made a confection of some of those herbal medicines and gave it to me to apply on my finger, believing that it would help the bone to recover faster.
I was three or four when my grandfather was taken into Adel-Abaad prison in Shiraz.  My mom has told me:
A couple of days before your grandfather received the order to appear in the Islamic court, we were all at his house, chatting together and watering the flowers in the backyard.  It was a nice day.  As we were chatting, a white dove flew down and sat on your grandfather's right shoulder.  He picked up the dove, let it fly away, and said: "I've been chosen, too."
My father does not say much about my grandfather.  But he tells one story over and over:
When my father was called to appear in the court, I gave him a ride to the court building and took him inside early in the morning.  But, on the next day when I went there to follow-up his case, I was told nobody with such a name was brought here, ever.
Most memories I have of my grandfather date back to the days when we went to visit him—and my uncle as well—in the prison.  I was waiting the whole week for the visiting day.  It was a joyful time for me and other children.  We used to play together in the big field outside the prison until the Baha'i families were called to go inside and visit their imprisoned parents, siblings, or other relatives.  Parents would buy us ice-creams in those hot days of summer to keep us hydrated.
I can recall that the last time we went to see my grandfather in the prison he was sitting on a wheelchair.  All my uncles and aunts had gathered around his booth, talking, waving, and sending kisses from behind the window.  I think my uncle or somebody else lifted me up so I could see my grandfather.  But, since he was sitting in a wheelchair, I was not able see him through the crowd. Yet, because I didn't want my uncle to feel bad, I told him, 'yeah, yeah, I saw him'.  After that, I begged my mom several times to take me to the booth so I could see my grandfather one more time, but she said, 'no, the visiting time is over; we should leave.'
My grandfather was in jail for a short time.  He had diabetes and it got worse over that period, and eventually, due to the lack of medicine and medical attention, he passed away in the prison.
After his death, I thought he was God for a while.  My parents framed a big picture of him in which he was seated on a Persian carpet, leaning on a striped green pillow. They hanged the frame on the wall.  I don't remember who had told me to sit in front of the picture and say my prayers.  Perhaps, because of this and because my grandfather in the picture had a very innocent and sweet face, I thought he was God.  When I got a bit older, I thought God was like my grandfather, sitting with the legs crossed, leaning on a pillow, listening to our prayers.
Years later, in a gathering in Shiraz, a Baha'i friend, who had been in prison with my grandfather and uncle, turned his face to my sister and me and addressed the group. "Let me tell you something about the grandfather of these two sisters."  On that day, I heard for the first time that because of his diabetes and the lack of medicine in prison, my grandfather's feet had swollen so much that they were bruised and even bleeding sometimes.  This friend and other younger friends used to put him on their backs, carry him up and down the stairs, give him a bath, and make jokes and laugh together.  A Baha'i physician, who also happened to be imprisoned, had asked the other Baha'i prisoners to collect the meat in their meals and give it to my grandfather, so he could have enough strength to fight his diabetes.
I remember that after the executions of Baha'is, my uncle and a couple of other young Baha'is used to go to "Golestan Javeed," the old Baha'i cemetery of Shiraz, in order to help excavate new graves and water the lawn and flowers.  My uncle promised to take me there one day and finally arranged a date.  However, I don't know exactly what happened, but the day before that date, he said nobody was supposed to go there anymore. He, nevertheless, promised to take me there one day.  Apparently, Baha'is have been banned from going to the cemetery ever since.  Now that it has been razed to the ground, I don't think that my uncle can ever fulfill his promise.
---
[1] A town, about 45 kilometers north of Shiraz.