Source: hra-news.org
Translation by Iran Press Watch
22 January, 2015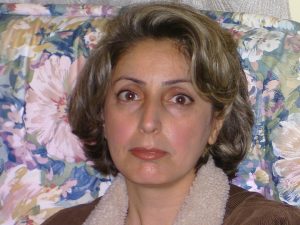 HRANA News Agency- Rozita Vaseghi, a Baha'i, has been freed from Vakeel-Abad prison in Mashhad after five years imprisonment.
According to HRANA, the news agency of Human Rights Activists, Rozita Vaseghi, a Baha'i citizen of Mashhad, after completing her five year imprisonment with hard labour in Vakeel-Abad of Mashahd, was freed on the evening of the 21st of January.
It is noteworthy that she spent six months of her sentence in solitary confinement in the Information Office of Mashhad.
During her custody, Ms. Vaseghi was under heavy pressure from the Information Office to sign a statement indicating that she would not participate in any Baha'i activities, but she never signed this document
During her five years imprisonment, Rozita Vaseghi, again under the pressure of the Information Office, was not given a single day's opportunity for a home visit, even for necessary medical attention*.
Ms. Vaseghi, like other Baha'i prisoners in Mashhad, was barred from contacting any other prisoners, and was confined in a separate room in the women's prison.
* See sensday.wordpress.com/2013/06/17/rozita-vaseghi-denied-medical-treatment