Source: bahaicamp.com
Translation by Iran Press Watch
by Behnam Roghani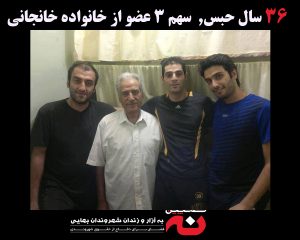 Since the beginning of the Islamic Revolution, Iranian Baha'is have systematically faced several types of pressure by officials. They met with many atrocities, including capital punishment, being murdered, destruction of religious properties and long years of imprisonment, as well as other oppression.
From the early years after the Islamic Revolution till today the treatment of Baha'is has not improved ‒ their mistreatment has become more methodical and well planned.
Deprivation of the human rights of Baha'is has been a process that the Islamic Republic has pursued continually. Destruction of Baha'i religious properties, shutting down places of work and businesses, denial of business permits, deprivation of higher education for youth, demolition of cemeteries, a ban on any Baha'i gatherings or meetings, and destruction of personal property are all part of the pressure mounted against these Iranian citizens.
The Islamic Republic of Iran has consistently denied these atrocities which have been heaped upon Baha'is.
The Khanjani family is a good example which demonstrates these injustices. The majority of the members of this family are either already in prison or have completed their sentences.
Navid Khanjani is a Baha'i citizen, a human rights activist and a member of the  Committee of Human Rights Reporters*who founded the Population of Combat Against Educational Discrimination. On Sunday the first of February 2011 in the 26th Branch of the Revolutionary Court under presiding Judge Peerabasi, Navid was sentenced to 12 years of imprisonment and a cash fine.
Jamaloddin Khanjani, a Baha'i citizen who is 83 years of age, since the 14th May 2008 has been in prison for being a member of the Baha'i Faith. Mr Khanjani and six other Baha'i leaders (known as the Yaran, or "Friends") were sentenced to 20 years of imprisonment each. He was arrested for many weeks without any explanation, and for almost a year he had no access to legal advice.
Foad Khanjani was sentenced to four years of imprisonment in the 28th Branch of the Revolutionary Court under presiding Judge Moghiseh, which was confirmed in the 54th Branch of Appeal Court under presiding Judge Movahhed.
Other Khanjani family members' fates are as follows:
In recent years Mr Afraseeyab Khanjani was under heavy economic pressure due to his reading glass manufacturing factory being shut down and confiscated.
Nooshazar Khanjani, a Baha'i who was repeatedly summoned to the Number Four Branch of the Evin (Shaheed Moqddas) Prosecutors' office. Nooshazar, during a trip to the city of Semnan, was arrested by the Security Organisation without any apparent reason. It is noteworthy that Nooshazar is the granddaughter of Mr. Jamaloddin Khanjani's sister and Navid Khanjani's cousin.
Behfar Khanjani was sentenced to four years of imprisonment; since the year 2011 he has been incarcerated in the city of Semnan prison.
Aladdin (Neeki) Khanjani, was arrested in August 2014; after some time he was transferred to section 309 of Evin Prison and then freed on bail.
Babak Mobasher (Leva Khanjani's husband), was arrested in August 2014, and after some time was transferred to section 309 of Evin Prison and then freed on bail.
Leva Khanjani completed her sentence last year after being in prison for two years, since 2012.
Omid Firoozian (grandson of Mr. Jamaloddin Khanjani) was freed after completing a year of imprisonment in Semnan
* The website of the Committee of Human Rights Reporters is at https://www.iranrights.org/library/collection/148/committee-of-human-rights-reporters