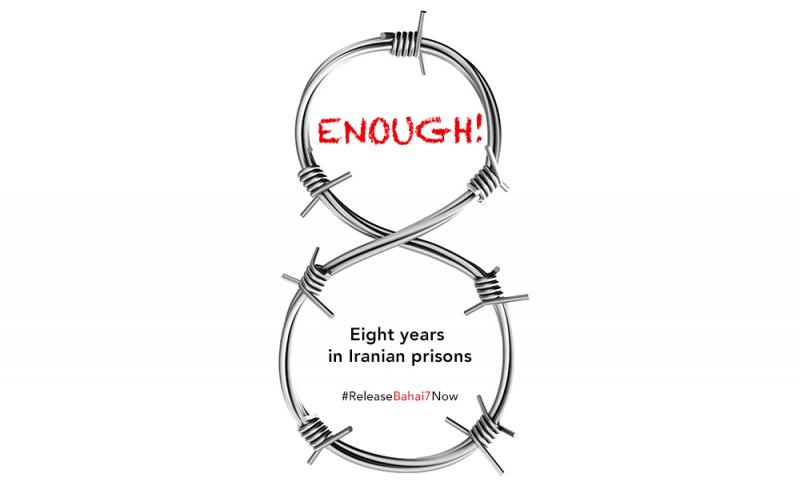 NEW YORK—29 April 2016—In observance of the eighth anniversary of the arrest and incarceration of seven Iranian Baha'i leaders, the Baha'i International Community is launching a global campaign calling for their immediate release.
Taking the theme "Enough! Release the Baha'i Seven," the campaign will emphasize the fact that, under Iran's own national penal code, the seven are now overdue for conditional release.
A special campaign page has been established with information about their current legal situation and other resources, which can be found here. The campaign will also be reflected on a Facebook page, which can be found here. The hashtag for the campaign is: #ReleaseBahai7Now
"The theme – Enough! – states simply and clearly our urgent call for the release of these seven innocent prisoners," said Bani Dugal, the principal representative of the Baha'i International Community to the United Nations. "They should never have been arrested in the first place and their long incarceration – based exclusively on their religious beliefs – is unjustifiable legally, logically, and morally.
"The campaign," said Ms. Dugal, "is to encourage individuals, governments and organizations from all sectors of society around the world to call on the government of Iran to follow the rules of its own national laws and to immediately release the seven imprisoned Baha'i leaders.
"We hope that their story can serve as yet another reminder of the need to protect the fundamental freedoms guaranteed by documents, such as the Universal Declaration of Human Rights, which, among other things, uphold the right to freedom of religion or belief.
"The government of Iran is one of the most egregious violators of this fundamental freedom in the world today. We hope that by calling attention to the long and unjust imprisonment of these seven innocent men and women, we highlight the oppression that many others are also going through in that country," said Ms. Dugal.
The seven Baha'is – whose names are Fariba Kamalabadi, Jamaloddin Khanjani, Afif Naeimi, Saeid Rezaie, Mahvash Sabet, Behrouz Tavakkoli, and Vahid Tizfahm – were arrested in 2008.
Mrs Sabet was arrested in Mashhad on 5 March 2008, while the other six were taken from their homes in Tehran in early morning raids on 14 May 2008.
They were held for more than a year, put on trial, and ultimately convicted on wrongful charges of espionage and "propaganda against the regime," among other things.
They were initially sentenced to 20 years in prison. But in November, that term of imprisonment was reduced to 10 years, due to the very delayed application of a new national penal code adopted in 2013, which essentially states that sentences should be served concurrently instead of consecutively.
Under the terms of the new penal code, the seven are now eligible for conditional release. Indeed, as with the reduction in their sentence, this should have happened promptly after passage of the new code.