Source: en.iranwire.com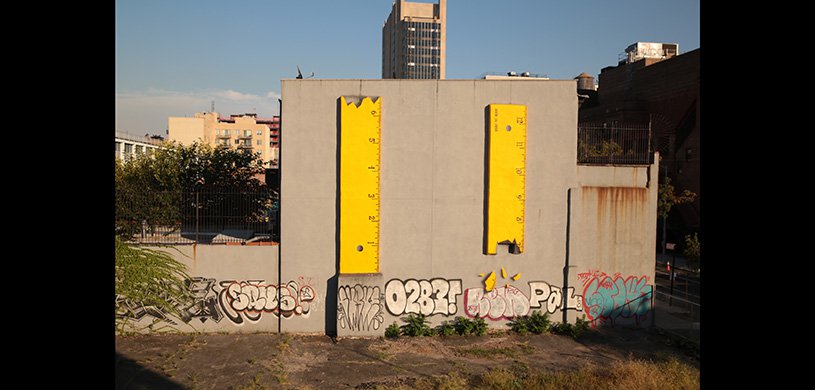 David "Rabi" Torres, one-half of the artist duo Cyrcle, painted this "Mad in Iran" broken ruler in Harlem. New York, US
The Not A Crime campaign is back in New York to paint a new series of murals across the world-famous neighborhood of Harlem. Our project works through creativity and the arts to raise awareness about the Baha'is of Iran – the country's largest religious minority, and a peaceful, progressive group, with principles including the equality of men and women and universal compulsory education – who are barred from studying and teaching in Iranian universities because of their beliefs. Tens of thousands of young Baha'is have been blocked or expelled from university since Iran's 1979 Islamic revolution. We work with artists from around the world to tell this story.
Maziar Bahari, the Iranian-Canadian journalist and documentary filmmaker, and the publisher of IranWire, started the campaign. Luminaries such as the Nobel Peace Prize laureates Archbishop Desmond Tutu and Dr Shirin Ebadi have endorsed Not A Crime – as have several celebrities including the Oscar-nominated Mark Ruffalo and the comic actor and SoulPancakefounder Rainn Wilson.
Maziar isn't a Baha'i, but I am; I'm also half-Iranian, and I like to think that this project is fast becoming one of the most public examples of what all Iranians – people of all faiths and none, of any background – can achieve together for the good of our home.
I've been sent to New York to manage Not A Crime's Harlem project. The people of Harlem represent a powerful part of the United States – African Americans – who have been struggling for equality in this country for almost four-hundred years. Iranian Baha'is have a shorter history and a different story of persecution. But they are facing an urgent fight for justice as the Iranian government actively works to strangle them of their future.
African Americans and the Baha'is have been working together for social justice for many years. We want to tell this story – the storey of an ongoing history of two intersecting communities of struggle. Harlem is where it's going to happen.
The next six months will see us paint at least 15 murals across this unique part of New York. We want each to tell a story of struggling for equality and to celebrate the principle of universal education. You'll meet our curator and artists and publicists as we tell the human stories of the persecuted Iranian Baha'is and look for lessons from the experiences of African Americans. And I'll be here, with you, reporting on how it's done; the wall-scouting, the networking, the community outreach, the celebrity endorsements, the delicate work of commissioning artists and choosing designs, the technical challenges and logistical nightmares, the byzantine bureaucratic contortions imposed on us by the city, the weather crises, safety scares, equipment failures, the edgy moment when some passerby gets the wrong idea and threatens to kill us (because it's happened before), the dark magic of getting the media to cover the campaign, the long hours and early mornings, the frayed nerves, the deepening fear that it's all set to fail and come to naught. And finally, of course, inevitably, I'll report on the victories that will fall on us all at the end. We always win – because we're on the side of the light.
Iran's government is terrified of anyone who stands up for the light. I arrived in New York the day before a 20-year-old Iranian Baha'i woman, Rouhie Safajoo, was arrested in Iran. A gang of plainclothes security agents raided her house – confiscating all the books, CDs, and other materials – and took Rouhie to Tehran's notorious Evin Prison. Rouhie spent 19 days in solitary confinement before being released on bail.
But Rouhie committed no crime: all she did was write a letter. Her applications to university had been blocked – as happens to almost all young Baha'is in Iran – and she wrote a letter of protest to the authorities. She did what a good citizen should do; she took her case to the Organization of Tests, then the Ministry of Science, then the Supreme Administrative Court, and finally to a constitutional committee of the national Parliament. None of this helped so Rouhie posted her letter online. Her peaceful defiance finally got the attention of Iran's security agencies and she was thrown in jail.
No regime arrests a 20-year-old woman for writing a letter unless it's committed to one thing only – its own power, its position – and sees a request for justice not as a virtue but as a threat. Rouhie's arrest demonstrates her hold over the Ayatollah Ali Khamenei, Iran's supreme leader, over the brutal Revolutionary Guards, and over the apparatus of clerics and officials who are all in it for themselves. The Islamic Republic claims to serve its people – but this is just a lie stolen from the truth.
I read about Rouhie as I moved into my apartment, tried soul food, bought a Metropass, and began raising the first planks of our new project. Her arrest gave all this a special focus. We're in Harlem for her – and the others like her in Iran.
Let's paint some walls.