Source: hra-news.org
Translation by Iran Press Watch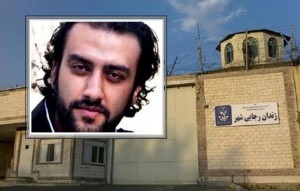 HRANA NEWS – The 12-year discretionary sentence of Navid Khanjani, the human rights activist, in Raja'i Shahr Prison in Karaj by application of the "aggregation rules" has been reduced to 5 years in jail. Under the new ruling, he will be released within the next year.
According to HRANA NEWS, the Human Rights Activists News Agency, Navid Khanjani, the imprisoned human rights activist in Raja'i Shahr Prison in Karaj, who was sentenced to 12 years of discretionary incarceration before, under article 134 and the "aggregation rules", is facing a 5-year discretionary detention now. So his release is expected in less than a year.
The human rights activist is currently serving the fourth year of his sentence in Hall 12 of Raja'i Shahr Prison in Karaj.
HRANA‒ according to one of his relatives, regarding the development of his furlough status reported before: " Earlier Mr. Khodabakhshi himself suggested to Navid's family to encourage him in requesting a temporary leave, and Navid was resisting the request. Eventually, at his family's insistence, he asked for a furlough, but they did not approve his application, and did not divulge who was against the approval."
According to this source, Navid's mental status in prison "is not bad", but due to the blows to his lower back and issues with his fourth and fifth vertebrae he underwent surgery in 2014, and he still needs to watch his movements ‒ in addition, he is not able to exercise.
Navid Khanjani, the Educational Rights Committee Officer in the Human Rights Activists Group, a member of the Human Rights Reporters Committee, and founder of the Fight Against Educational Discrimination Community, was detained by Intelligence officers in March 2010, and was in prison for two months.  He then was sentenced to 12 years in jail, along with a fine of four hundred dollars, by Judge Pir-Abbasi of Branch 26 of the Revolutionary Court. The sentence was later upheld by an appeals court.
He has been charged with
Spreading lies.
Disturbing public minds and propaganda against the system by disseminating news, reports, and interviews with foreign radio and TV.
Member of the Human Rights Activists Group in Iran
Member of the Human Rights Reporters Committee
 Founder of the Fight Against Educational Discrimination Community