Source: iranwire.com
By Kian Sabeti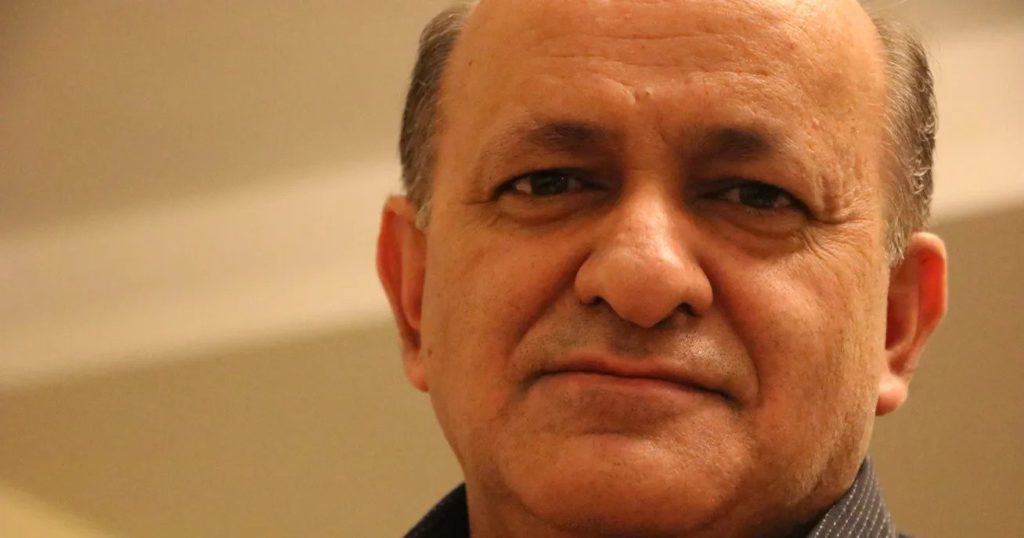 "I cannot remember the exact moment when the idea of launching a school with a new system first took root in my mind; perhaps it began to start towards the end of my time in traditional schooling. By my second year of high school, I started feeling that attending school was nothing more than a waste of time and that one could acquire a comprehensive academic education in a significantly shorter period. I made the decision to leave high school and dive into the job market. I continued my high school education independently, taking approximately a month to pass the exams for each grade. It turns out my intuition was right."
Saman Ostovar, a 55-year-old Baha'i in Iran, posted the above to Instagram. A month ago today he was jailed for trying to bring his educational vision to life.
Ostovar was born in 1968 in a Baha'i family in Tehran. His family relocated to Kerman when he was five years old. When he was older, and like other Bahais in Iran, Ostovar faced barriers to pursuing higher education at Iranian universities. Despite these obstacles, he earned a diploma through self-study and by participating in various exams, before continuing his education at BIHE; the Baha'i Institute for Higher Education.
The BIHE was established in 1983 by the Baha'i community in Iran to provide higher education to young members of the religious minority – who were denied access to universities by the Iranian government.
The institute's instructors were Baha'i academics and experts from multiple disciplines who had themselves been dismissed from teaching positions at Iranian universities because of their beliefs.
Ostovar graduated from the BIHE with a degree in educational psychology. His qualification was equivalent to a master's degree and he secured a place on a PhD program at the University of Pune in India.
His first arrest, meanwhile, occurred while he was assisting victims of the 2003 earthquake that occurred in Bam. Following his release, due to family circumstances, Ostovar had to stop his PhD studies. He then devoted his time to teaching young people who had been deprived of education.
Ostovar recounted the incident of his arrest during the Bam earthquake as follows:
"After the devastating Bam earthquake in 2003, I felt compelled to offer my assistance and support. While there, I had the opportunity to connect with individuals who cherished modern education and held a deep regard for human dignity. This experience had a profound impact on my perspective. Witnessing the dire state of education in Bam villages, I became resolute in my determination to contribute to the field of education in any way I could. I spared no effort in assisting these kind-hearted individuals. Along this path, I gained invaluable experiences. However, after several years, in February 2011, I, along with a group of friends who shared my dedication and compassion, found ourselves arrested. Following three months of detention, spent in solitary confinement, enduring interrogations and imprisonment, I received a sentence of three years [in prison]."
Ostovar added that due to changing conditions in Kerman, his family decided to relocate to a city where they had many friends, Karaj, near Tehran.
Ostovar had meanwhile, also, started his own family. "When my first child began attending school, my dream grew stronger," he said. "We found ourselves immersed in the same outdated system. By the time my second child started school, my determination [to contribute to educational advances] had solidified, but the necessary space and resources were still out of reach."
His academic studies in educational psychology and other related courses gave him a deeper understanding of modern educational methods – and laid the foundation for Ostovar to feel closer to realizing his dream.
In 2017, sometime after settling in Karaj, Ostovar reconnected with a group of enthusiastic Baha'i parents who shared a desire to break away from the conventional school system. His long-standing dream now bean to resurface. Ostovar and the other Baha'i parents worked together, found financial support, and welcomed a class of 12 children from Baha'i families and below elementary school age to their own educational initiative outside the standard school system.
The school expanded even as its initial cohort moved up the grades and, by the time the school had to close its doors, albeit temporarily, because of Ostovar's arrest, the first cohort had reached the fifth grade and there were 40 students.
The philosophy of "Saman's School" rested on the premise that "Education should kindle a passion for knowledge, not merely inject information. Our children are not reservoirs for facts." Students at the school would also be measured only against their own progress rather than external testing standards. Competition and grades would therefore be removed from the schooling environment – nurturing qualities of personal responsibility for own's growth and contributions in each pupil.
A special emphasis was placed on the importance of books and reading, acknowledging different kinds of intelligence, and incorporating life skills as advocated by the United Nations.
The ultimate goal was to create an environment where a child's creativity could flourish thanks to a joyful and stress-free approach to teaching and learning.
The school's curriculum was diverse and classes were held full-time. Traditional subjects were complemented by foreign languages, music, dance, science labs, carpentry workshops, pottery workshops, animation analysis and creative painting. Preschool children attended classes lasting two and a half hours while older children and high school students had classes lasting from four to five hours.
Instructors observed each student and providing individual assessments instead of administers exams. Daily evaluations took place in regular classroom settings and without students being aware of the assessment process. Teachers submitted daily reports for each student, enabling a comprehensive understanding of each child's progress, strengths and areas needing improvement.
For instance, one student might grasp addition and subtraction within a month, while another might require six months. No exams were administered during this process.
Teachers invested time in the student who needed more time, trying different methods and seeking to spark an interest in the subject, ensuring that they did not become discouraged. The aim was to ensure that all children learned the essentials without frustration.
Fourth and fifth grades then adopted a project-oriented approach. In these classes, teachers shifted from conventional instruction to a role more like a guide and mentor for the students.
And unlike traditional schools there was no summer break for three months.
The school nevertheless did not shirk the expectations of the system. The Education Law required the school to allow its students to participate in year-end examinations organized by the Ministry of Education. Parents who wished to obtain certificates for their children at various levels would take them to sit for these exams. All students at Saman's School had the opportunity to earn a passing certificate corresponding to the grade they had completed that year.
The school's educational program, meanwhile, was designed so that students received instruction aimed at surpassing the standard curriculum of Iranian schools, enhancing their abilities, and ensuring that they acquired more knowledge by the end of the school year.
Ensuring that the students could sit and pass traditional exams was useful because, after Ostovar's arrest and the subsequent closure of the school, the students took exams for their respective grade levels and each advanced to the next grade. A few students were even able to skip a grade.
All the classes were conducted under the guidance of experienced instructors who were taught to bachelor's and often also master's level. Teachers were also expected to engage in continuous learning through short-term courses on topics such as first-grade education, teaching mathematics with the abacus method, philosophy for children, sex education and others. The school also organized advisory groups and classes for parents.
On July 31, 2022, the Ministry of Intelligence conducted a large-scale, systematic raid on the homes of numerous Baha'i citizens. Saman Ostovar was arrested as part of this operation.
The school was shut down and no consideration was given to the academic needs of its students.
Ostovar was released on bail after spending four and a half months in temporary detention. Subsequently, the Revolutionary Court of Karaj handed down a sentence of five years in prison, and a five-year deprivation of social rights after his prison term. He was also exiled from Alborz province for two years and prohibited from leaving Iran for 2 years. A two-year ban on engaging in any educational and cultural activities was also imposed.
The original sentence was upheld in the appeals court, and on Saturday, August 5, 2023, Ostovar started serving his prison sentence. His aspiration to establish a new school led to his incarceration.
Ostovar believes that his conviction stems solely from his adherence to the Baha'i faith as none of his actions contravene the country's laws. He had gathered a group of children and provided them with education – even overseeing their successful completion of state exams.
Ostovar said, "Our aspiration was that the sacrifices made by families and the dedication of a group of new educators would serve as a positive example for the entire education system in our beloved Iran, enhancing its overall productivity."
If he had lived in a country other than Iran then his dream could have flourished instead of leading to his imprisonment.