Source: Narges Mohammadi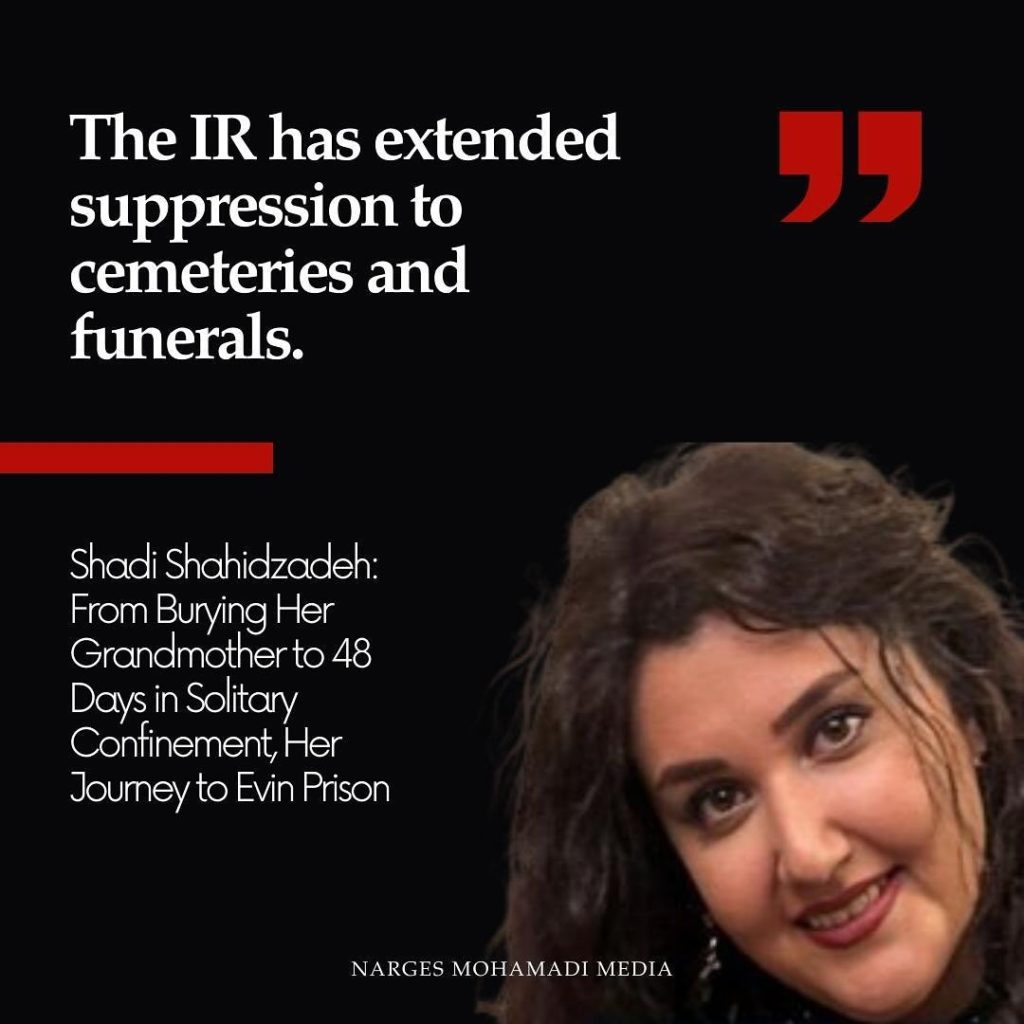 On June 16th, a 29-year-old Baha'i woman entered the women's ward after enduring 48 days of confinement in the secure cells of ward 209.
Her charge was attempting to bury her grandmother.
Shadi Shahidzadeh lost her grandmother on March 31st. She took the body for burial and she found herself in solitary cells of ward 209 of the Ministry of Intelligence.
After the 1979 Revolution, the Baha'i cemetery was confiscated, and they built the Khavaran Cultural Center over the graves of Baha'is and gave them a piece of land called "Kofrabad" means land of sinners for burial.
Baha'is did not even have access to a bath for washing their bodies before burial.
The Baha'i cemetery is adjacent to the mass graves of the victims of the 1980s executions in Iran known as Khavaran.
Now, the government demands that the Baha'is bury their dead in the same plots as those executed in the 1980s.
This is the very piece of land that serves as the only memorial to the youth lost in this land due to confiscation of their resting places.
Baha'is are resisting and want to honor their deceased by burying them in the same land allocated to them after the confiscation of their burial grounds.
The oppressive government has ordered them to bury their dead in the section reserved for the executed of the 1980s or face fines.
To bury them in the Baha'i cemetery, they must pay 28 million tomans.
Meanwhile, Shadi had visited all relevant government agencies from April 2nd to April 28th to obtain permission for burial. Ultimately, her grandmother was buried without informing the family, and Shadi herself was taken to solitary confinement. They even denied Shadi the opportunity to mourn at her dear one's grave. She grieved for her loss in the narrow, dark cells, separated from her five-year-old daughter, enduring the pain of her own suffering, the constant oppression, and the continuous injustice against the Baha'is.
The IR has pushed oppression to a point where it extends its rule over the dead in cemeteries. What a tragic situation that a government lacking legitimacy, power, and credibility among the living should rule over the graves.
Shadi's daughter whose childhood dreams have been shattered by relentless oppression, blending her mourning for her beloved with the absence of her mother, etching it on her young heart.
How heartless it is to throw a five-year-old girl into fear and abandonment, causing her to wish and say, "I wish my mommy and daddy would die, and daddy would go for a burial, and the men would take her, and you would stay with me."
This is the story of religious tyranny, relentless oppression against Baha'is, and the bitter tale of their life and death.

Nargis Mohammadi
September 2022
Evin Prison