Source: www.hra-news.org
Translation by Iran Press Watch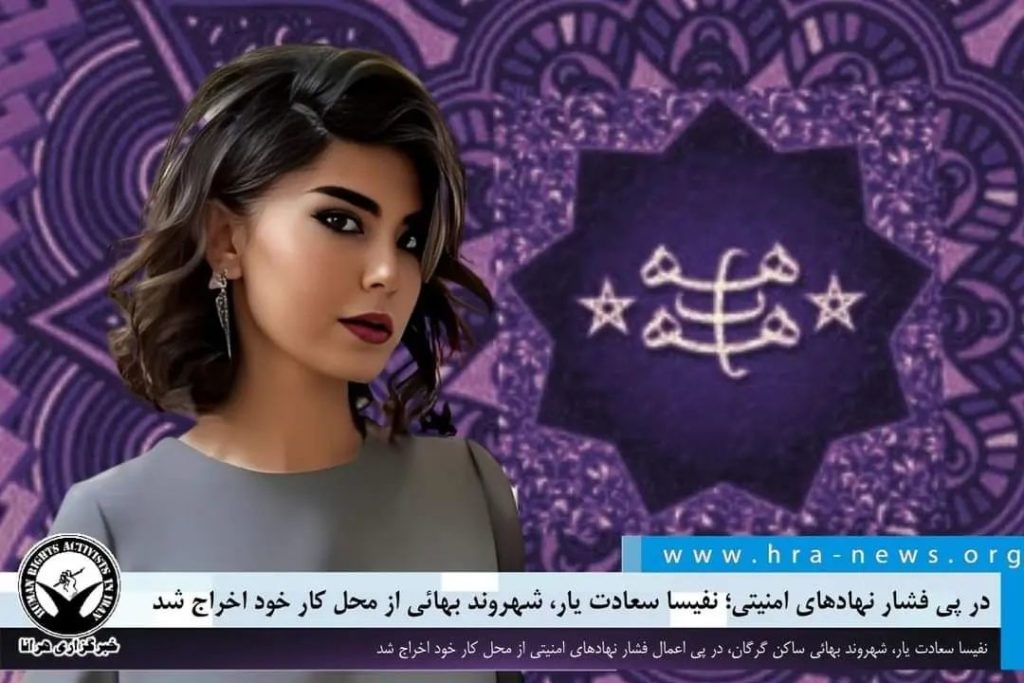 HRANA News Agency – Nafisa Saadatyar, a Baha'i citizen living in Gorgan, was fired from her work due to pressure from security agencies.
According to HRANA news agency, the news organ of the Human Rights Activists in Iran, Nafisa Saadatyar, a Baha'i citizen living in Gorgan, lost her job when security agencies pressured her employer to fire her.
Nafisa Saadatyar and her husband Pouya Amri were arrested in January of 2023. After a period of detention each was released after posting a bail of 500 million tomans.  Their arrests occurred as part of an ongoing campaign against Baha'i Citizens of Iran.
A source close to this Nafisa Saadatyar's family told HRANA: "Ms. Saadatyar worked as a science representative in a private company for fifteen years. Following her arrest and release, IRGC Intelligence forces summoned the managers of this company and forced them to fire Ms. Saadatyar. Finally, the directors of the company were forced to stop working with this Baha'i citizen."
It's noteworthy that Baha'i citizens in Iran are deprived of the freedoms related to religious beliefs, this systematic deprivation continues despite to Article 18 of the Universal Declaration of Human Rights and Article 18 of the International Covenant on Civil and Political Rights, which states every person has the right to freedom of religion and change of religion with conviction, as well as the freedom to express it individually or collectively and publicly or secretly.
Article 77 of the Charter of Citizen Rights approved by the Iranian government also states: "Citizens have the right to freely select and engage in the work they choose without discrimination and in compliance with the law. No one has the right to deprive citizens of this right on grounds of ethnicity, religion, gender and/or political and/or social persuasions.."