Source: www.iranhumanrights.org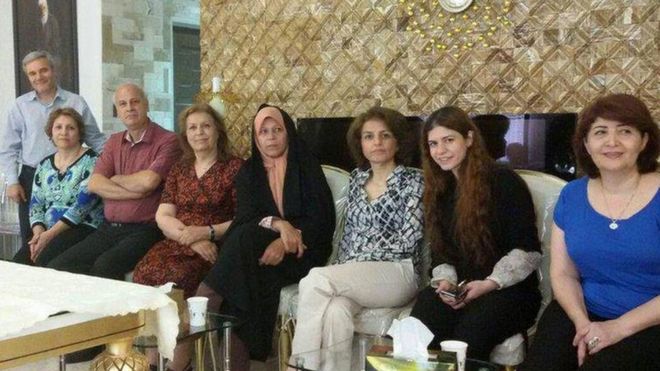 Inmates at the Women's Ward in Evin Prison have been told that their furloughs (temporary leave) have been canceled and that they will no longer be able to send letters to relatives, a source told the International Campaign for Human Rights in Iran.
Some twenty-five women are known to be inmates at Evin's Women's Ward, all of whom are political prisoners or prisoners of conscience.
The measures appear to be collective punishment in retaliation against prisoner and Baha'i leader Fariba Kamalabadi's high-profile meeting on May 13, 2016 with former Tehran MP Faezeh Hashemi during Kamalabadi's furlough.
"When Fariba Kamalabadi's five-day furlough ended, the family asked the Tehran prosecutor for an extension, but his representative refused and said the reason was the meeting between Fariba and her former cellmate [Faezeh Hashemi]," the source told the Campaign.
Faezeh Hashemi, the activist daughter of former President Akbar Hashemi Rafsanjani, previously shared a prison cell with Kamalabadi in Evin Prison.
In 2010 Kamalabadi and six other Baha'i leaders were sentenced to 20 years in prison each on trumped up charges including "espionage," "propaganda against the state," and "organizing and expanding an illegal group." Kamalabadi's five-day furlough was the first temporary leave she had been granted during her eight years of imprisonment.
The Baha'i community is one of the most severely persecuted religious minorities in Iran. The faith is not recognized in the Islamic Republic's Constitution and its members face harsh discrimination in all walks of life as well as prosecution for the public display of their faith.
Kamalabadi's meeting with Hashemi was strongly condemned by politicians and religious leaders. A high-ranking member of the Iranian Judiciary also vowed that action would be taken against Hashemi.
Ayatollah Nasser Makarem Shirazi, a senior theologian in the holy city of Qom, urged the Judiciary to punish Hashemi for her "crime" on May 16, 2016 and later issued a religious decree on May 29, 2016 forbidding Muslims from socializing with Baha'is.
"It is certainly forbidden for anyone to socialize with [Baha'is] unless there is a chance they could be guided [away from their faith], and publishing photos of them socializing is the same as spreading corruption," said Makarem.
Despite the widespread criticism she has received from powerful quarters in Iran, Faezeh Hashemi has publicly defended her decision to meet with Kamalabadi.
"I paid a visit to Ms. Kamalabadi because she was my cellmate. We lived together for six months," said Hashemi in an interview with Euronews on May 15, 2016. "Meeting her when she was released on furlough for five days after eight years of imprisonment was a very ordinary thing."
"We aren't animals who ignore moral and humanitarian obligations that are put on our shoulders at certain periods of our life," she said.
Hashemi also described her time in prison as a "very valuable learning experience" adding: "We in Iran are committing injustice not only against [Baha'is] but against many others as well. But the level [of injustice] against [Baha'is] is worse than all others. This should not be happening. We must change our behavior."