Source: BahaiNews1
Translation by Iran Press Watch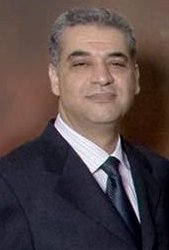 According to "BahaiNews", Afif Naeimi, one of the leaders of the Iranian Baha'i community, was transferred to the Tehran Heart Hospital yesterday.
According to "BahaiNews", Mr. Afif Naeimi, because of fainting (medically known as syncope) and blood clots, has been suffering from his bad health condition, and has passed out a few times in prison due to his illnesses.
According to informed sources, several of the leaders of the Iranian Baha'i community, commonly known as the Yaran-i Iran ("Friends of Iran"), have suffered from health issues after their incarceration, but have not been receiving even minimum health treatment.
According to this report, Afif Naeimi's physical condition is due to a possible brain aneurysm, and his fainting ‒ caused by blood viscosity ‒ is becoming worse daily. Despite three Coroner's office notifications regarding his inability to tolerate his punishment or to temporarily postpone his incarceration, he still is in prison.
For now, Afif Naeimi suffers from traumatic syncope, an embolism and blood viscosity. He has been using blood anticoagulation medication for the past few years, but he still suffers from the muscular weakness of his heart.
According to a "BahaiNews" report in January 2009, the prosecutor in Tehran for the Ministry of Intelligence announced that charges for the Iranian Baha'i community leaders are "espionage for Israel, insulting religious sanctities, and propaganda against the regime". In the winter and spring of 2010, these court proceedings were held under Judge Moghiseh of Branch 28 of Tehran's Revolutionary Court. Mahnoz Parakand, the attorney on this case, referring to the many limitations on meeting with her defendants and defending them on charges of spying for Israel, says: "The Baha'i World Center is located in Israel. They were referring to the fact that Israel does not tax the House of Justice, so they suppose that because of this it is apparent that the defendants must be spying for them. Their arguments were mostly absurdities of this kind."
The Iranian Baha'i leaders were sentenced to twenty years in prison on August 8, 2010, although the Yaran did not accept any of the charges. According to the sentence, each member of the Yaran were to be sent to prison for a period of twenty years ‒ they were sentenced to a total of 140 years. On September 15, 2010, the Court of Appeal, after eliminating charges of spying and collaborating with Israel, reduced the sentences to 10 years. This ruling was orally expressed to the attorneys of the Yaran, but this decision of the appeals court was determined to be against religious law by the Iranian Attorney General, so it raised the sentences once again to 20 years. These 20-year sentences were officially communicated to Fariba Kamalabadi and the other six members of the Yaran. However, the Iranian Baha'i community leaders' sentences were subsequently reduced to 10 years in prison after seven and a half years of incarceration.
At present, the Yaran are serving their 10-year sentences in Evin and Reja'i Shahr prisons. For the past eight years, the majority of them have not had any furloughs from jail.
_____
1. "BahaiNews" is an independent non-Bahá'í initiative and is not affiliated with any Baha'i institutions.