Source: BahaiNews1
Translation by Iran Press Watch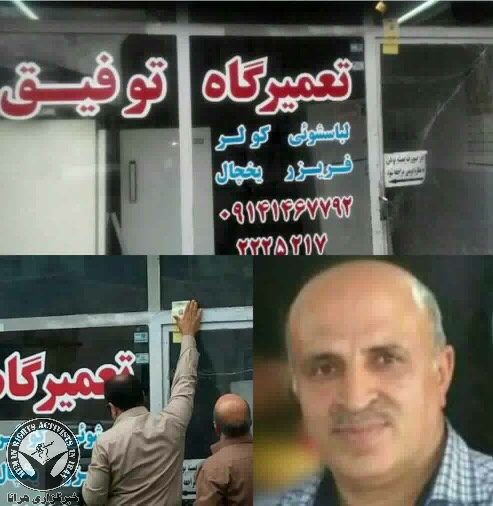 "BahaiNews" has reported, quoting informed sources, that agents of the Public Places Office in the city of Urmia have shut-down more than 28 Baha'i-owned businesses. According to information from several sources, after officials from the Public Places Office shut down these businesses by presenting a warning notice, no information regarding these shut-downs has been found for the last ten days. According to an informed source, "none of the governmental bureaus or organizations took responsibility for these shut-downs; even the Intelligence Ministry Office in the City would not respond. After ten days of continuous follow-up by these Baha'i Citizens, the Public Places Office has stated that the Intelligence Ministry was the party requesting the shut-downs."
The "BahaiNews" reporter asked this source about the reason for these shut-downs. This individual said: "It is not clear. We had never before received such warnings all at once, which would show a warning wotice telling us that out business should be shut down."
According to informed sources, these Baha'i citizens have visited the office of the Head of the Public Places Office, the Office of Provincial Business, the Western Azerbaijan Governor's Office, and Parliament Representatives offices as well as the Intelligence Office in the city requesting answers regarding this issue; their questions have been left unanswered.  These shut-downs will continue for the next few days, and according to the warning notice, we might witness more sealed businesses.  According to the warning notice, the business owners who will have their shops sealed for the next few days are:
Dariush Javaherdoust
Siamak Ahmadiyan,
Mohammad Ali Derakhti,
Farhad Dargahi,
Ghorban Najafzadeh,
Salim Naghavi,
Pardis Payrovi,
Erfan Samandary,
Rita Latifi,
Siamak Abdi,
Elham Abdi,
Ali Aghdasi,
Siavash Abdi,
Eynollah Aghdasi,
Bonian Maghsoudi,
Wahab Moghaddam,
Shahab Najafzadeh,
Fardin Aghsani,
Changiz Shah Mohammadi,
Farzad Ma'boudi,
Behzad Dargahi,
Navid Morghi,
Omid Latifi, and
Sasan Karimi
In the past few years, the Public Places Office has sealed many Baha'i-owned businesses. In the past, "BahaiNews" has understood the reason behind the shut-down of the Baha'i-owned businesses to be because of opposition of the Intelligence Ministry to Baha'i companies closing on the nine Baha'i religious holidays, and we have seen  Baha'i-owned business closures and incarceration of Baha'i citizens after Baha'i religious holidays. According to Iranian National Business Law, active licensed businesses may close their businesses for 15 days annually, but if they want to close for more than 15 days, they need to inform the Public Places Office.
_____
1. "BahaiNews" is an independent non-Bahá'í initiative and is not affiliated with any Baha'i institutions.