Source: www.hra-news.org
Translation by Iran Press Watch
Date: September 27, 2018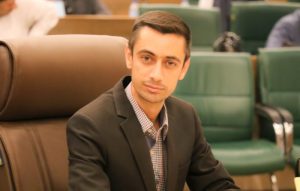 HRANA News Agency – A member of the board of directors of the Islamic City Council of Shiraz reported that Mehdi Hajati, a member of the Council, was arrested on Thursday afternoon for defending Baha'is. Earlier, in a published note, Mr. Hajati showed his support for two Baha'is who were arrested in Shiraz last week.
As reported by HRANA, quoting IRNA (Islamic Republic News Agency), Ghasem Moghimi added Thursday evening that: "The arrest of this City Council member is related to the charge that he supported Baha'is".
He further added: "The Islamic City Council of Shiraz has scheduled a special meeting for Thursday evening related to this matter".
Nowzar Imami, another member of the Shiraz City Council, in confirming this news said: "Mr. Hajati's file had been under review in Shiraz's General and Revolutionary Court".
Mehdi Hajati, born in 1978, is a reformist political activist, the vice-chairman of the Committee for Development, Transportation and Traffic, and a member of the Committee for Civil Rights in the Fifth City Council of Shiraz.
In recent weeks, Baha'is in various cities in Iran have faced increasing pressure from the Intelligence and Judicial agencies.
HRANA has also reported on the arrests by Intelligence agents, on September 15 and 16, of six Baha'is in Shiraz: Sudabeh Haghighat, Noora Pourmoradian, Navid Bazmandegan and his wife Bahareh Ghaderi, Elaheh Samizadeh and Ehsan Mahboub Rahvafa.