Source: www.en-hrana.org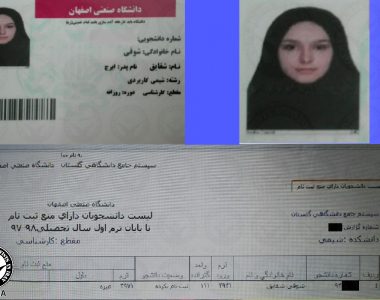 Human Rights Activists News Agency (HRANA) – In her sixth semester of study at the Isfahan University of Technology, Baha'i student Shaghayegh Shoghi has been expelled for her religious beliefs.
While Shoghi is among the few Baha'i students to have made it past the systemic barriers blocking most Baha'i students from enrolling in the first place, she has been denied the right to continue to the culmination of her degree.
In the past two weeks, the following four Baha'i students have been expelled from their universities, denied the right to obtain degrees they have earned, or prohibited from furthering their studies:  Anahita Horr and Shaghayegh Zabihi Amrie, associate's students of architectural drafting at Rasam non-profit University in Karaj on the western outskirts of Tehran; Nikan Shaydan Shidi, third-semester student of industrial mold-making at Tehran Technical University; and Misagh Aghsani, student at Payame Noor University in the northwestern city of Urmia.
Throughout the month of September, HRANA reported on 58 Baha'i students who were rendered ineligible to apply to college when their results on the 2018 National University Entrance Exam, known as "Konkur," were flagged "deficiency on file" on the National Organization for Educational Testing website.
In direct violation of the law, Baha'is are prevented from pursuing degrees or employment in government offices, per under-the-table directives from the Supreme Council of the Cultural Revolution. Every year, a new cohort of Baha'is is barred in this way from the university enrollment process.
UN special rapporteurs on the situation of human rights in Iran have continuously protested against the Iranian authorities' anti-Baha'i policies and practices – in particular barring Baha'i students from university education – and deemed these practices as instances of the Iranian authorities violating their international commitments.
Baha'i citizens of Iran are systematically deprived of religious freedoms, while according to Article 18 of the Universal Declaration of Human Rights and Article 18 of the International Covenant on Civil and Political Rights, all people are entitled to freedom of religion, belief, and changes thereof, as well as the right to express and practice those beliefs as individuals or collectives, in public or in private.
Though unofficial sources estimate the Baha'i population of Iran at more than 300,000, Iran's Constitution officially recognizes only Islam, Christianity, Judaism, and Zoroastrianism, and does not acknowledge the Baha'i faith as an official religion. As a result, the rights of Baha'is in Iran are systematically violated.