Source: www.hra-news.org
Translation by Iran Press Watch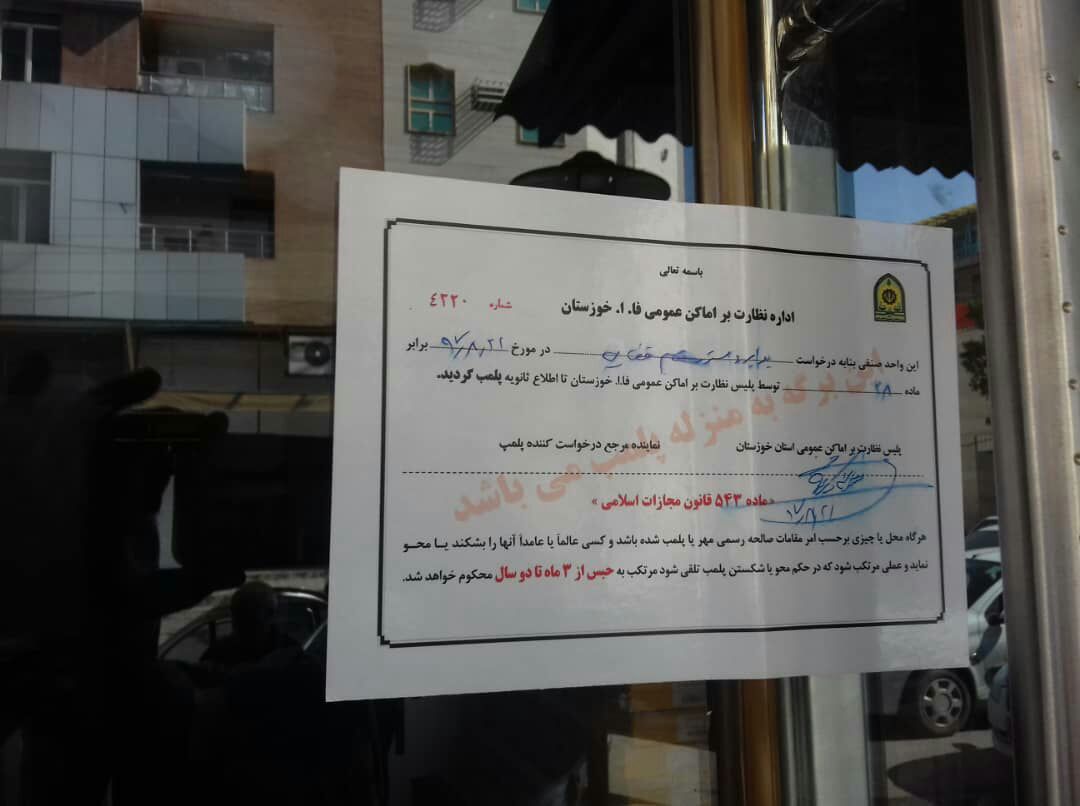 HRANA–Continuing the shuttering of the businesses of Baha'is in Ahvaz who had closed their shops because of a religious holiday: it now has reached five by the last count, yesterday evening. Based on the labor law people are allowed to close their shops for fifteen days without any reason. However this law does not apply to Baha'is; when as a result of any of their religious celebrations they refrain from working and close their shops based on their beliefs, security forces have sealed their businesses.
Based on HRANA News, the News arm of Human Rights Activists in Iran, up to Monday November 12 at least four Baha'i-owned shops had been sealed in Ahvaz.
The names of the owners of these shops are Varqa Derakhshan, Behrooz Zohdi and Jahanbakhsh Afsharzadeh, whose business is related to materials for the interior design of residential buildings. Also Faizollah Ghanavatian, who is in the business of TV repairs.
Altogether this is five shops owned by Baha'is in Ahvaz whose businesses have been sealed by order of the judicial authorities.
On Monday November 12th, HRANA also reported the sealing of the shop of Sohrab Derakhshan, a Baha'i in Ahvaz who sells interior design materials.
In this connection, yesterday an informed source told HRANA that "based on the instructions of the judicial authorities, at about 12.00 PM at least one Baha'i-owned shop was sealed because of the commemoration of twin Baha'i holidays on November 9 and 10".
Last year in July at least eleven shops owned by Baha'i citizens of Ahvaz who had closed their shops because of their religious celebration were sealed; after two months, on September 7, 2017, the seals were removed.
Earlier, HRANA reported the sealing of two businesses which were owned by Aram Azadi and Arman Azadi by judicial authorities; they closed their shops because of their religious celebration on the 5th of November as well.
Baha'is, because of their religious beliefs, close their workplaces during their religious holidays. However, security forces, even though there are clear and concise rules with regards to religious beliefs in managing business places, still seal their shops.
Sealing of work places takes place even though under section B of Article 28 of the labor law, shop owners are allowed to close their shops for a maximum of fifteen days without informing their union.
Currently the sealing of Baha'i-owned shops occurs despite the fact that Shahindokht Molavardi, special assistant to the president in judicial matters, on the 3rd of November, in an interview with the media, expressed that "with regards to sealing business centers and stopping Baha'i-owned businesses, information and advice have been sought from the Vice President responsible for judicial issues. Discussions are continuing in order to find a solution on the matter."