Source: www.hra-news.org
Translation by Iran Press Watch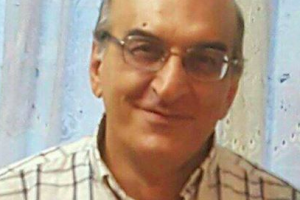 HRANA News Agency – Faruq Izadinia, a researcher, translator and Baha'i citizen residing in Tehran, has been sentenced to ten years in prison by the Tehran Revolutionary Court. The trial of this Baha'i citizen had been scheduled for early March last year. Mr. Izadinia has a prior record of detention for ideological reasons, including having been sentenced to execution in the 1980s, but he was released after reversal of this conviction and serving five years in prison.
According to HRANA News Agency, the news agency of Human Rights Activists in Iran, Faruq Izadinia, researcher, translator, and Baha'i citizen has been sentenced to ten years in prison by the Tehran Revolutionary Court.
In a lawsuit issued by Branch 28 of the Tehran Revolutionary Court, presided over by Judge Mohammad Moghiseh, the charges against this Baha'i citizen were "acting against the security of the country through the administration of the Baha'i establishment".
The statement reads: "He has been and still is one of the organizational and most influential individuals in the organization, and has been pivotal in attracting individuals to the Baha'i Faith. The court has recognized this crime, and has confirmed and ruled that the individual mentioned above has been found guilty, according to Article 298 of the Islamic Penal Code, and has sentenced him to ten years' imprisonment, including the period of his previous detention."
The lawsuit also mentions Mr. Izadinia's teaching at the Baha'I Institute of Higher Education (BIHE).
A court hearing on the charges against Faruq Izadinia was held in late February.
Following the trial, Mr. Izadinia wrote an open letter describing the proceedings and describing the trial, the full text of which has been published by HRANA.
Faruq Izadinia, who was previously detained and imprisoned, was arrested and sentenced to death during the arrests and executions of dissidents in the 1980s. Shortly after that, the death sentence was commuted and reduced to ten years in prison. Mr. Izadinia was eventually released after serving five years in prison.
The Baha'i scholar and translator was arrested for the last time on February 12, 2017, by security forces at his home. Agents had also confiscated about 1300 volumes of books and personal belongings during his arrest. He was released two weeks after his arrest and was free on bail until the end of the hearing.
Faruq Izadinia, born in 1950, is a Baha'i translator and scholar living in Tehran; among hi works is a translation of the book "The Devils of Loudun" by Aldous Huxley published by Niloofar Publications in 2015.
Baha'is in Iran have been deprived of their freedom related to religious belief and have been systematically deprived of their right to freedom of religion and to change their religion, according to Article 18 of the Universal Declaration of Human Rights and Article 18 of the International Covenant on Civil and Political Rights, which protect their freedom to express their faith individually or collectively, in public or in private.
According to unofficial sources, there are over 300,000 Baha'is in Iran, but the Iranian Constitution only recognizes Islam, Christianity, Judaism, and Zoroastrianism, and does not recognize the Baha'i Faith. For this reason, Baha'is' rights in Iran have been systematically violated for many years.