Source: iranintl.com
Translation by Iran Press Watch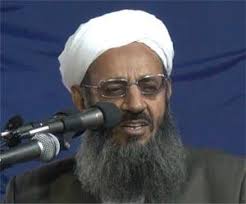 More than 60 political and civil activists stressed, in support of Mowlavi Abdul Hamid's letter to the Supreme Leader of the Islamic Republic, that the rights of religious minorities in Iran are being "severely" violated.
In a letter to Mowlavi Abdul Hamid, the Sunni Friday Imam of Zahedan, these political and civil activists called "unjust discrimination" against Sunnis over the last 40 years "profoundly regrettable".
The authors of the letter stressed that "the enjoyment of the citizenship rights of all Iranian ethnic groups and all Iranians, including Zoroastrians, Christians, Jews, and Muslims, including Shiites, Sunnis, dervishes and followers of the Baha'i faith, and those who agree and disagree with and those who criticize the regime, are among the most obvious religious, national, and humanitarian principles that are unfortunately severely violated today."
Ahmad Montazeri, Hashem Aghajari, Bahman Ahmadi Amoei, Hassan Asadi Zeidabadi, Abolfazl Bazargan, Alireza Beheshti, Mostafa Tajzadeh, Mohammad Tavassoli, Jalal Jalalizadeh, Parvaneh Salahshouri, Ehsan Shariati, Mohammad Ali Amoei, Ali Asghar Gharavi, Abolfazl Ghadiani, Fatemeh Govaraie, Narges Mohammadi, and Seddigheh Vasmaghi are among the signatories of this letter.
Mowlavi Abdul Hamid, the Sunni Friday Imam of Zahedan, wrote in a letter to the Supreme Leader of the Islamic Republic last week that 42 years after the victory of the Revolution, members of 57 Sunni sects are still considered "second-class citizens."