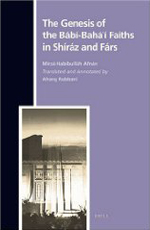 Kalmiat Press site has posted the following note:
The Genesis of the Babi-Baha'i Faiths in Shiraz and Fars
 By Mirza Habibu'llah Afnan. Translated and Annotated by Ahang Rabbani.
Published by Brill Numen Book Series
This book relates over one hundred years of the history of the Babi and Baha'i religions in Iran. Its author was born into the family of the Bab, raised by the Bab's widow, and ultimately became the Custodian of the Bab's house.  Therefore, he brings unique insight to the early history of the Faith in Shiraz and Fars. The memoir is lucidly translated and fully annotated by Ahang Rabbani, making the text more valuable and more accessible.