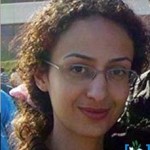 (RAHANA 20 June 2011) One month has passed since the arrest of Afrouz Farmanbordari and Noushin Khadem and they have not contacted their families.
Baha'i citizens Afrouz Farmanbordari and Noushin Khadem were detained during the raid on the Baha'i University. There have been no reports on their condition.
According to the Human Rights House of Iran, Khadem was arrested in Tehran and Farmanbordari was detained in Karaj.
Fourteen other Baha'i citizens were also arrested along with them and the homes of 40 people were searched. Four of the detainees were released on bail but 12 others are still in detention.
Except for Khadem and Farmanbordari, all the detainees have contacted their families at least once.
—
Source: http://www.rahana.org/en/?p=11278
Persian article: http://www.rahana.org/archives/41619