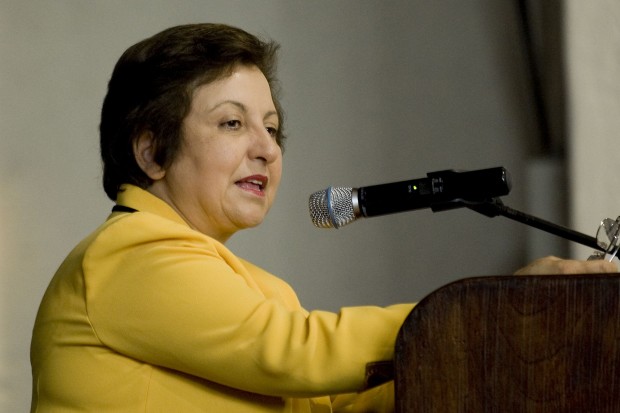 [majalla.com, 14 Feb. 2012] Human rights lawyer and Nobel laureate Shirin Ebadi, spoke with The Majalla on the relationship between religion and politics, the role of women in the Arab Spring, Iran's controversial nuclear campaign and the continuing Syrian crisis. On the subject of upcoming legislative elections in Iran, the exiled activist gave little away, preferring not to be drawn on moves to boycott the polls by reformist candidates. In a wide-ranging interview, Ebadi stresses that as well as making a clear distinction between religion and politics, people ought to be at liberty to interpret their faith in a way that does not infringe their civil rights.
"In the last 23 years, from the day I was stripped of my judgeship to the years of doing battle in the revolutionary courts of Tehran, I had repeated one refrain: an interpretation of Islam that is in harmony with equality and democracy is an authentic expression of faith. It is not religion that binds women, but the selective dictates of those who wish them cloistered. That belief, along with the conviction that change in Iran must come peacefully and from within, has underpinned my work."
…
Q: Do you fear for the infringement of women's rights under newly conservative governments, or is an Islamist regime preferable to the thuggery displayed during the beating of women protesters who demonstrated against the SCAF in Egypt?
We have tried to offer various interpretations of Islam before ratifying laws in Iran. Although the Iranian government has refused to hear other voices, we can suggest that the North African countries consider various angles of one subject. For instance, Ayatollah Hussein-Ali Montazeri's interpretation of Islam is thoroughly different from what the government formally practices. There have been severe disputes over rights of the Baha'i, and their case can be a good example. At the time that the government refused to grant rights of education to the Baha'i, the moderate Montazeri issued a verdict and announced that the Baha'i of Iran are entitled to civil and human rights.
My point here is that apart from separating religion from government, we must offer various interpretations of Islam. People should be able to choose among available interpretations according to their time and situation.
Such cultural approaches can help Muslims to be aware of their rights and realize that not everything that a government does under the name of Islam is Islamic and they do not own keys to heaven.
…
—

read the full interview here: http://www.majalla.com/eng/2012/02/article55229389