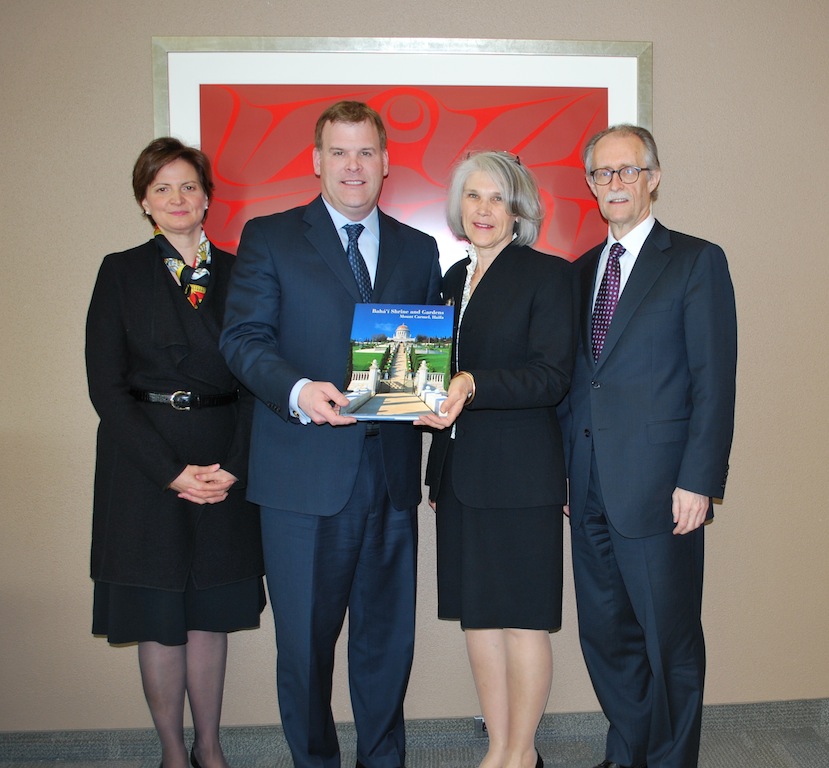 [bahainews.ca, 15 May 2012] Ottawa, Ontario, 15 May 2012 (CBNS) — As seven Baha'i leaders begin their fifth year of incarceration, arrested and sentenced solely because of their religious faith, Canada's Minister of Foreign Affairs, John Baird, and the Canadian House of Commons marked the anniversary with strong condemnation of the Iranian regime. The seven leaders face another 16 years of imprisonment.
Minister John Baird issued his statement on 14 May, saying that "Canada remains deeply concerned by Iran's ongoing, persistent and pervasive persecution of religious minorities."
"Today, on the fourth anniversary of the arbitrary arrest and detention of seven Iranian Baha'i community leaders, we are again reminded of the troubling state of human rights in Iran."
Representatives of the Baha'i Community of Canada met with Minister Baird in early May. Baha'i communities across Canada are holding public meetings and offering prayers, recalling the intense persecutions, the arrest of the Baha'i leaders, and marking on 22 May the first anniversary of Iranian government attacks on an informal initiative of Baha'is to provide higher education to Baha'i students who are denied access to Iranian universities. One year ago, 40 Baha'i homes across Iran were raided with many subsequent arrests. Nine of those arrested have now been sentenced, including a few graduates of Canadian universities.
The oppression of Baha'is reflects a wide range of human rights violations affecting many Iranians who are united in their desire to see freedom and progress in their country. Illustrative of the kind of brutality that confronts many Iranians are recent stories of Baha'i school children being harassed by teachers and school authorities. A Baha'i child's hand was burned and beaten by a teacher, other Baha'i children have been expelled from school because of their faith, and a Baha'i mother was abducted by government officials in front of her children.
Minister Baird's statement went on to say, "Iranian authorities continually undermine the right to freedom of religion by tolerating and even encouraging persecution of Baha'is, Christians and members of other minority religious communities. Freedom of religion is a universal human right."
On the date of the anniversary, the House of Commons also held an all–party debate commenting on Iran's horrific human-rights record. Eleven MPs from three political parties – Conservative, Liberal and NDP – expressed their concern for the Baha'is in Iran in this debate. All were equally forceful in their remarks. Mr. James Bezan, a Conservative Member of Parliament, began the debate with the following remarks:
"Mr. Speaker, four years ago today, seven Baha'i leaders in Iran were abruptly taken out of their homes and arrested. In a flagrant violation of international law, the prisoners were held for 20 months without any charges being laid. Some were placed in solitary confinement for months. They were finally given an inhumane sentence of 20 years in prison for espionage.
However, we all know that these seven innocent Iranians were arrested for nothing else than for being members of the Baha'i faith.
Baha'is in Iran have suffered a systematic relentless campaign of persecution. Over 200 Baha'is have been killed, hundreds more imprisoned and the Baha'is in Iran face social, economic and cultural restrictions. Iranian authorities continue to undermine the rights of freedom of religion through the persistent and pervasive persecution of religious minorities, such as Baha'is, Christians, Jews, Sufis and Sunni Muslims.
Members from all sides of the House will come together this evening to participate in an important and timely debate on the human rights situation in Iran. We continue to urge Iran to uphold its international obligations to allow for freedom of religion and to respect the fundamental rights for all of its people."
For complete speeches please click here or see the attached document.
—
Source: http://www.bahainews.ca/en/node/745