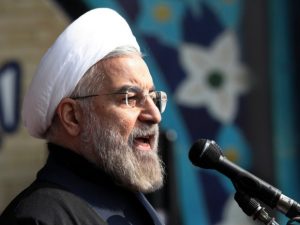 AP Photo/Vahid SalemiDuring his 2013 election campaign, Rouhani explicitly promised to ensure "equality for all citizens without discrimination based on race, gender, or religion." Despite his campaign promises, the Iranian regime's campaign of incitement to hate against the Baha'i has continued unabated.
As part of Iran Accountability Week, the National Post is partnering with Canadian Parliamentarians to highlight the plight of political prisoners being persecuted by Tehran's theocratic regime.
Canadian parliamentarians across the political spectrum have joined together to launch the third annual Iran Accountability Week to sound the alarm on the Iranian regime's many threats: nuclear, terrorist, hateful incitement, and, in particular, the widespread and systematic violations of human rights.
The events of Iran Accountability Week include hearings with international and Iranian experts before the Foreign Affairs Subcommittee on International Human Rights, public forums, press briefings, advocacy on behalf of Iranian political prisoners, and a concluding call to action.
This year's Iran Accountability Week comes at a most appropriate time, with the P5+1 group of nations resuming nuclear negotiations with Iran. We all hope this will result in a comprehensive nuclear agreement, but the process risks overshadowing, if not sanitizing, the Iranian regime's massive domestic repression.
This also marks the sixth anniversary of the imprisonment of Iran's Baha'i leadership, also known as the Yaran; an execution binge that has seen over 600 executions since the "moderate" Hassan Rouhani ascended to the Presidency in August 2013, and over 250 carried out in 2014 alone; and the continuing unjust imprisonment of more than 900 prisoners of conscience and political prisoners, including women, human rights defenders, ethnic and religious leaders, journalists, bloggers, students and trade union leaders — in short, the leaders of Iranian civil society — many under threat of execution.
A centrepiece of Iran Accountability Week is the Global Iranian Political Prisoner Advocacy Project, whereby MPs and Senators "adopt" a political prisoner on whose behalf they engage in sustained public advocacy.
This year, I am advocating on behalf of the Yaran — all of whom were arrested and given 20-year sentences in 2008, a virtual death sentence for some, given their advanced age. The Baha'i leaders — Fariba Kamalabadi, Jamaloddin Khanjani, Afif Naeimi, Saeid Rezai, Mahvash Sabet, Behrouz Tavakkoli, and Vahid Tizfahm — were convicted and sentenced based on trumped-up charges, which include "espionage for Israel," "insulting religious sanctities," and "propaganda against the system," reminiscent of the old Soviet tactic of "give us the people and we will find the crime." Indeed, the Iranian regime has made the very membership in and practice of the Baha'i religion a crime in itself.
The prosecution and persecution of the Yaran constitutes a case study of the systematic character of Iranian injustice, in standing violation of both Iranian law and international treaties to which Iran is a state party. This includes: arbitrary, illegal, and prolonged detention; torture and ill-treatment; false and trumped-up charges such as "spreading corruption on earth" (a capital crime); denial of the right to effective trial; denial of the right to see and rebut prosecutorial indictment; and trial hearings devoid of any semblance of due process before a politicized judiciary.
The Yaran's continued imprisonment also provides a looking glass into the widespread repression of Iran's Baha'i community, which is not only viewed by the regime as a criminal, heretical sect, but which the Supreme Leader maligned in a 2013 fatwa as being "deviant and misleading." Accordingly, the Baha'i have been routinely arrested and imprisoned simply for practicing their faith.
This repressive pattern of persecution — which began with the 1979 Islamic Revolution — has intensified over the past decade. It has swept up several graduates of Canadian universities, who have been detained and imprisoned on their return to Iran for their involvement in the Baha'i Institute for Higher Education.
During his 2013 election campaign, Rouhani explicitly promised to ensure "equality for all citizens without discrimination based on race, gender, or religion." Despite his campaign promises, the Iranian regime's campaign of incitement to hate against the Baha'i has continued unabated, including: the singling out of the Baha'i for special opprobrium and repression; the use of state media to dehumanize and demonize the Baha'i in the eyes of their fellow Iranians; the harassment of Baha'i children; the proliferation of personal and property assaults on members of the community; and the orchestration of militia and hate groups to intimidate and silence them. All of this has been accompanied by an ongoing culture of impunity, wherein no one has ever been arrested or prosecuted for such crimes.
The plight of the Baha'i and their imprisoned leadership must be a priority on the Canadian and international agenda. While Canada has co-sponsored the annual UN General Assembly Resolution condemning the Iranian regime's ongoing abuses and those against the Baha'i, it must also hold to account those responsible for the repression of the Baha'i minority. Indeed, we must raise the plight of the Baha'i in any and all bilateral and international fora as a demonstrable case for Iranian accountability. We must call for the release of the seven imprisoned Baha'i leaders and community educators, as well as a cessation of the escalating assaults on the Baha'i people, which have continued unabated, and even intensified, despite Rouhani's talk of "moderation".
National Post
Irwin Cotler is Emeritus Professor of Law at McGill University and former Minister of Justice and Attorney General of Canada. He is a co-sponsor of Iran Accountability Week and co-Chairs (with U.S. Senator Mark Kirk) the Global Iranian Political Prisoner Advocacy Project.
—
Source: http://fullcomment.nationalpost.com/2014/05/16/irwin-cotler-criminalizing-the-bahai-faith/