Source: http://taghato.net/article/7659
Translation by Iran Press Watch
Date: August 9, 2014
Taghato: Human Rights sources report the restart of the destruction of the old Baha'i cemetery in Shiraz and the arrest of four Baha'i citizens in the same city. Meanwhile, numerous Baha'is who participated in the national university entrance exams this year did not receive the results of their tests.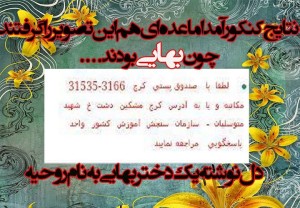 As reported by the "Baha'i Community" website, the Revolutionary Guard forces restarted the destruction of the Baha'i cemetery in Shiraz, removed the remains of 30 to 50 of the 950 Baha'is buried in this cemetery, and dumped them in an open canal.
Based on this report, laying the concrete foundation at the excavation site has recently begun. Signs posted around the cemetery announce the construction of a sports and cultural complex at this location which will include a library, mosque, restaurant, amphitheatre and nursery.
Referring to a complaint filed by the Shiraz Baha'is regarding the destruction of this cemetery, Diane Alai – the representative of the Baha'i International Community to the United Nations in Geneva – has reported that the Baha'is were told "local officials do not monitor the actions of the Revolutionary Guards that purchased this land approximately three years ago."
Destruction of this cemetery first began in the month of May of this year, but was stopped after international and media protests.
Meanwhile, on Tuesday, August 5th, HRANA Human Rights website reported that four Baha'i citizens residing in Shiraz were arrested by Shiraz's security forces and transferred to an unknown location. Their names are: Bahieh Manavipour, Adib Hagh-pajouh, Saeed Abedi and Vahid Dana.
Based on HRANA's report, Mr. Hagh-Pajouh was also arrested by the security forces in January 2010.
In other news related to the continuing human rights violations of Baha'is by the Iranian government, instead of receiving their test results, those Baha'is who participated in the national university entrance exams received a message instructing them to contact the Karaj unit of the "University Evaluation Board" or to write to a post office box address provided to them.
Roohieh Safajoo, one of the Baha'i university applicants, posted a picture of this response on her personal Facebook page, explaining that she was "faced with a new form of incomplete file" after she input her information on the University Evaluation Board website.
In a letter to Hassan Rohani, this young Baha'i girl wrote: "Dear Mr. Rohani! I am not asking you to let my expelled brother, parents, uncles, aunts and many cousins return to university. I am just asking you to let me go to university out of my large extended family. This all by itself would be enough for us to trust you and to know you are keeping your promise."
It is important to note that Baha'is have been deprived from pursuing higher education based on a February 25, 1991 ruling by the Supreme Council of the Cultural Revolution which prevents Baha'is from obtaining a university education in addition to blocking employment in government entities.
Based on section three of this ruling, not only should the Baha'is be prevented from enrolling in universities, but they should also be deprived of education if they are identified as Baha'is after enrollment and during their education.