Source: HRANA News Agency, http://goo.gl/dvv8Tc
Translation by Iran Press Watch
August 6, 2014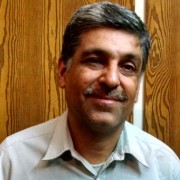 A Letter from Fariborz Baghi, A Convicted Baha'i
My name is Fariborz Baghi. I am a resident of Yazd, a city in southern Iran. In 2012, my wife and I were among 15 people arrested, accused of acting against national security and of propaganda against the regime by the office of the Ministry of Intelligence in Yazd. In our month-long stay in solitary confinement, we had to defend ourselves in court without any representation.
We were released on bail, and a year later our court date was set for August 22, 2013. We defended ourselves against the charges set by three prosecutors in a 2400 page dossier. Shortly thereafter, my wife and I received one year of probation and 2 years of imprisonment, respectively. We appealed the rulings, and finally, on April 14, 2014, the Court of Appeals endorsed the original verdict.
Following the Court of Appeals' decision, I repeatedly tried to communicate with the judges. I wrote a brief account of my life in a letter, asking them to add it to my case; however, even this request was denied.
Since I do not agree with the judgments issued by the Islamic Revolutionary Court of Yazd, and I believe in my complete innocence, I am sharing the content of the letter I wrote to the judges with you, whom I believe to be more "just" than the justices on my case. I leave the judgment to you. I will gladly clarify more if further explanations are necessary.
(Letter dated: August 3, 2014)
To Honorable Judges of the Court of Appeals, Branch One of the Islamic Revolutionary Court of Yazd
Greetings!
In regard to my alleged crimes recorded in case file number 9109980304600233, I, Fariborz Baghi, state the following:
I am an Iranian citizen of Zoroastrian lineage whose ancestors have lived in this land with honor and utmost dignity. My forefathers refused to recant their faith and leave their homeland despite all oppression, restriction and persecution. About a century ago, my great-grandparents heard about the Baha'i Faith; they became Baha'is upon investigating it. As a result, I was born a Baha'i. I was only 14 when the Islamic Revolution took place in 1979. I was very studious and excelled in school. I was admitted to a high school affiliated with the University of Shiraz. After finishing this high school, I might have continued my education in the field of medicine without having to take an entrance exam. After the revolution of 1979, however, and with the increase in waves of violence and discrimination against Baha'is, I was denied a high school diploma, and as a result was not able to attend the university. All the property of our family was confiscated, and my brother-in-law was arrested and sentenced to death. In this day and age, we (as Baha'is) were faced with all the adversities and horrible events our Zoroastrian ancestors had endured for many centuries. Although I found an opportunity to go to Canada to pursue my education, I decided to stay. My conviction in my beliefs and my love for service to my country was too strong; I preferred deprivation, humiliation and slander in my country over financial prosperity and growth opportunities abroad. I started a small business for tuning auto engines. I chose this occupation with service to my fellow Iranians in mind. In the past 20 years, I have played a small role in helping my country and fellow countrymen save gasoline, reduce pollution, conserve the environment and reduce import expenditures. I never sought monetary assistance or loans from any institution, nor have I burdened my government financially. I have fixed and tuned some 25,000 vehicles, which has kept me constantly busy. I have a lot of happy customers who are completely satisfied with my performance. I have telephone number for some 2,000 customers, all of whom will testify to my level of attention, care, service and fairness, should you decide to survey them.
While running my business, I have tried to serve my fellow Baha'i citizens who like me had tasted the bitter flavor of deprivation and persecution. As you are well aware, there are Baha'i organizations all over the world that take care of the immediate needs of the Baha'i communities. After the Islamic Revolution of 1979, in obedience to the order of the government, these organizations in Iran were dissolved on 3 different occasions after enduring massive damage and financial losses: first, all local and national spiritual assemblies in 1983; second, the Baha'i Institution for Higher Education (BIHE) in 2003; and third, the councils of Yaran ("Friends" on the national level) and Khademeen ("Servants" on the local level) in 2009. It is noteworthy to say that although these organizations were disbanded, the Baha'i community still managed to take care of their immediate needs on an individual and neighborhood basis. All the services in a Baha'i community are done voluntarily and without financial reward. The nature of the service I provide for my fellow believers is humanitarian, non-profit and non-political.
One of the charges against me was acting against national security and setting up "secret organizations". The term " secret organizations" in the realm of national security has a negative and dangerous connotation, and causes alarm and concern. However, a close look at the activities of Baha'i organizations will prove that they were meant to take care of the needs of the Baha'i community, such as helping the needy, resolving marital and financial issues, and education and nurturing of children. Even if these activities had been conducted "secretly" and were "organized", they do not impose any threat to the security of any country.
But unfortunately, these limited and harmless acts, in this case, have been stamped as propagation against the regime and acting against national security. Although my wife and I tried to clarify the truth during interrogations and trials, regretfully we were found guilty and were handed sentences of 2 years of imprisonment and one year of probation in court, a verdict that was confirmed by the appeals court as well.
Honorable Judges; I am now 50 years old, with many unrealized dreams and wishes that are still enkindled in my heart. Despite this, the thought of betraying my country or any similar act never passed through my mind –  not even for a moment. I hope that the light of equity and justice may enlightens us all and the wish of my beloved Master (1) in regards to Iran will be realized that:
"The government of Iran will be most respected by all the leaders of the world".
I thank you for your attention in reading my letter. Please drop my charges and release me.
Fariborz Baghi
—
(1) Refers to Abdu'l-Baha (1844-1921), the son of the Baha'i prophet Baha'u'llah.